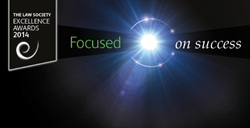 LoopUp's EVP and General Counsel, Robert Baugh, has been shortlisted for a second time for Solicitor of the Year in the In-house category by The Law Society of England and Wales in their annual Excellence Awards
London, UK (PRWEB UK) 4 September 2014
LoopUp, the provider of simple, pain-free conference calls and online meetings, today announced that its EVP and General Counsel, Robert Baugh, has been shortlisted for a second time for Solicitor of the Year in the In-house category by The Law Society of England and Wales in their annual Excellence Awards. Robert was shortlisted for this same award in 2009.
The Law Society Excellence Awards shine a spotlight on industry-leading work of both law firms and individual lawyers, as judged by an expert panel.
"We'd like to congratulate Robert on this well-deserved recognition," said Steve Flavell, co-CEO of LoopUp. "Robert's experience, knowledge and dedication have led to his playing a much wider role than solely his counsel to the company and board on legal matters, including his business development work with LoopUp's strategic partners and his position on the company's executive committee."
Winners will be announced at an awards dinner on Thursday 9 October 2014 in London. A full shortlist can be found on the Law Society's website.
About LoopUp
LoopUp's award-winning SaaS solution makes conference calling less painful and collaboration easy. We help thousands of businesses host more productive remote meetings without classic annoyances such as not knowing who's joined, background noise, and difficulties sharing content. LoopUp alerts you when your first guest arrives, calls out to you when you wish to join, shows you who's on and who's speaking, and lets you share your screen with a click. LoopUp sells direct to the enterprise market and via distribution partners including Alcatel-Lucent Enterprise, BT and Cable & Wireless Communications. For more information, visit LoopUp at loopup.com; read our industry views at loopup.com/blog; follow us on Twitter @LoopUpTeam.