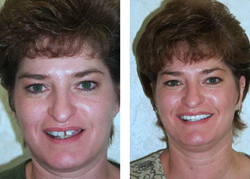 Louisville cosmetic dentistry services are very popular, because everyone wants an attractive smile," he said. "But an attractive smile must also be a healthy smile.
New Albany, IN (PRWEB) September 18, 2014
Louisville cosmetic family dentist Dr. Ronald Receveur is in the "smile-making business," so he knows the important statistics: nearly 9 in 10 people consider teeth to be the most important part of an attractive face, almost a third notice someone's teeth before other parts of their face, and a fourth say they remember someone's teeth most after meeting them.
That is why Dr. Receveur wants to offer five tips to the public to have a healthy smile.
"Louisville cosmetic dentistry services are very popular, because everyone wants an attractive smile," he said. "But an attractive smile must also be a healthy smile."
So Dr. Receveur offers these tips to keeping your mouth, which is made of more than just your teeth, healthy and attractive:
1. Front teeth that are crooked or poorly positioned will affect your smile and make biting food and speaking more difficult.
2. Missing or poorly aligned back teeth may not be visible, but they can damage your smile by putting increased pressure on the rest of your teeth and straining your jaw muscles. This can cause teeth to fracture, fillings to break and teeth to wear.
3. Damaged or missing teeth not only can affect your smile but can lead to jaw bone deterioration and give bacteria a place to hide to cause gum disease.
4. Don't assume your teeth are in good shape because they don't hurt. Regular dental visits are important for preventing problems as well as solving them.
Dr. Receveur, who practices in New Albany, Ind., across the Ohio River from Louisville, Ky., is an affordable dentist who offers Louisville cosmetic dentistry services and general dentistry such as teeth cleanings, X-rays, fillings, extractions, root canals, crowns, teeth whitening and veneers.
Dr. Receveur also is an expert in more advanced implant dentistry like All on Four dental implants, All on Six dental implants, mini dental implants, One Day Smile Solution, dental implants in one hour, bone grafting and sinus lifts, all with IV sedation dentistry.
Dr. Receveur offers a five-year warranty on all cosmetic and prosthetic work.
Dr. Receveur, a New Albany native, has been the family dentist of choice for Southern Indiana and Louisville since 1981.
Dr. Receveur was born with a partial cleft palate that left him with a missing front tooth. As a child he "wore an awful removable partial." As a teenager, Dr. Receveur received a permanent bridge, but his dentist destroyed one of his healthy, natural teeth in the process. These dental experiences helped drive him to find better dental solutions for his patients.
Dr. Receveur graduated from Indiana University Southeast with honors in chemistry, after which he earned his doctorate in Dental Surgery from the Indiana University School of Dentistry.
Dr. Receveur has attended more than 5,000 hours of postgraduate training and even gone to Portugal to study with the best dentists in the world. He has been awarded numerous advanced certifications in Implant, Sedation, Comprehensive, Restorative and Aesthetic dentistry so he may provide the most current dental techniques to his Louisville and New Albany dental patients.
Those looking for Louisville dental bleaching and other cosmetic and reconstructive dentistry should go to NewAlbanyImplants.com for more information.