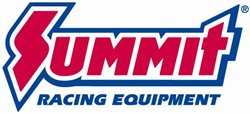 Tallmadge, OH (PRWEB) September 12, 2014
AED's 850 and 950 HO Series carburetors are about as close to a custom-tuned carburetor as a race can get straight out of the box. The mechanical secondary carburetors are tuned on AED's computerized wet-flow bench to properly match and balance fuel delivery to all cylinders. That means a better-controlled fuel metering signal and strength for crisp throttle response, great drivability, and killer acceleration at any engine speed.
Features include:

Custom, high-flow CNC-machined billet metering blocks
Milled choke tower for more balanced air delivery
4-corner adjustable idle circuits
Adjustable idle air bleeds
Dual accelerator pumps
Dual vacuum ports
Aluminum fuel bowls with large sight glasses
Reusable non-stick gaskets and washers
AED HO Series Carburetors are also available in 650, 750, and 1,000 cfm ratings for gasoline and 750 cfm for alcohol.
See all AED HO Series carburetors at Summit Racing
Summit Racing Equipment
http://www.SummitRacing.com
1-800-230-3030