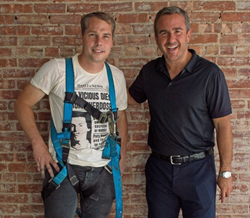 We are delighted to be working with Shepard Fairey on this project.
Manahttan, NY (PRWEB) September 04, 2014
Caspi Development – a Purchase, NY-based leader in the ownership, management and development of residential and commercial real estate in metro New York – has teamed up with acclaimed street artist Shepard Fairey to outfit a 20,000+-square-foot, mixed-use Manhattan property with a bold, imaginative mural. The artwork matches a contemporary, turnkey workplace that inspires creativity, collaboration, and productivity.
Fairey is considered the godfather of the street art scene, and is best known for creating the famous Barack Obama "Hope" poster and ubiquitous "Obey" campaign featuring Andre the Giant. Now, Fairey's work will adorn the seven-story property at 161 Bowery. The structure boasts a rooftop lounge with summer kitchen and congregating area, along with beer on tap and kegerators, positioning it as an attractive full-floor loft space for burgeoning tech and creative companies. Other amenities include a high-speed elevator, bicycle work stations and suspension chairs, and conference tables that double as ping pong tables. Caspi Development signed with WiredNYC to make 161 Bowery one of the first boutique office buildings with redundant fiber services. The building's original roller gate – some nine-feet tall and decorated by English street artist Ben Eine – will hang in the lobby.
161 Bowery was designed by the celebrated Andres Escobar, and Gallin Beeler Design Studio served as architects. Daniel Levine and David Falk of Newmark Grubb Knight Frank are handling leasing.
"We are delighted to be working with Shepard Fairey on this project," said Joshua Caspi, Principal of Caspi Development. "We acquired 161 Bowery with the goal to develop inspirational office space for creative groups, and we feel Shepard's message captures the essence of our concept."
"There's an exciting movement sweeping New York City centered on reinvigorating older buildings," said Tim Shopa, Project Manager with Caspi Development. "We wanted to create a lifestyle office space with all the bells-and-whistles – a place that appeals to millennials. 161 Bowery is perfect for growing companies that need space quickly and without a headache."
"It's very rare to have a fully-renovated, state-of-the-art building, not only in this part of town, but that will cater to smaller and mid-size user groups," Levine said. "For a 3,000- to 4,000-square-foot company to get a full floor is very unique in this marketplace."
The artwork – which features a phoenix and the phrase "We Own The Future" – was painted by hand by Fairey and his team, who used boom trucks and stencils over a five-day span in late August. The project was coordinated by the Little Italy Street Art Project (LISA).
About Caspi Development, LLC
Caspi Development has been a leader in ownership, management and development of residential and commercial real estate for more than 40 years. Based in Purchase, NY, the company is known for its diversity and ability to respond to market conditions and capitalize on opportunities. Over the last few years, the company has acquired through joint venture approximately 1,600 apartments in New York City. Most recent Caspi Development projects include a 500 unit apartment package in the Bronx with Finkelstein Timberger and CBRE Capital Markets, as well as a number of high end apartment projects in Brooklyn with Artemis Real Estate Partners. Other notable Caspi Development projects include the 600-room Holiday Inn located in Midtown Manhattan on 57th Street; the Chambers Hotel, a luxury 80-room hotel off Fifth Avenue and 56th Street, the Stamford Marriott Hotel in Stamford, CT; the Classic in Stamford and Hartsdale, NY; 235-245 Main Street, a 158,000 square-foot office property in White Plains, NY; and 120 Bloomingdale Road, a 145,000-square-foot commercial renovation project in White Plains.