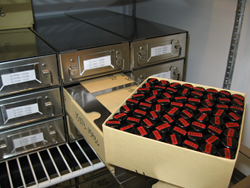 St. Paul, MN (PRWEB) September 05, 2014
The recent discovery of undocumented smallpox stocks in an NIH lab has led to concern over proper long-term storage of microbes. On August 25, 2014, Timothy Donohue, the President of the American Society for Microbiology, issued a message to ASM members urging them to "review what microbes we each have in the lab, inventory them, and use appropriate methods to deposit them in an approved collection, or destroy any cultures that are no longer needed by our labs." In agreement with this statement, the US Culture Collection Network (supported by NSF grant DBI-1203112) recommends that useful, valuable, or potentially harmful microbes be deposited in professionally-managed public repositories that operate according to international standards and that provide safe handling and storage of microbial stocks under appropriate preservation and biosecurity conditions. These collections provide for authoritative exchanges of materials, preserving rights for depositors and users, and are moving toward standard pre-arranged, or simple click-through material transfer agreements. International efforts through the World Federation for Culture Collections and the World Data Centre for Micro-organisms have worked for many years to establish codes of conduct to simplify exchanges while preserving the rights of depositors.
The mission of the USCCN is to promote the safe and responsible utilization of microbial resources for research, industry, medicine, and agriculture for the betterment of the human condition. To help meet the shared aims of researchers and the U.S. public, the USCCN offers resources to U.S. microbiologists who are looking for an appropriate repository for their microbial stocks. The USCCN web page provides information on a broad variety of U.S. bacterial, fungal, yeast, and algal collections, many of which accept deposits as well as distribute strains to researchers under established terms and procedures.
The USCCN, which has been active since 2012, invites participation by public U.S. microbe collections, whether they are at universities, government agencies, or research institutions. Participating U.S. culture collection curators have gained expertise in material preservation, collection and database management, compliance, sustainability planning, and intellectual property rights management.
A networking event will be held at University of California, Davis, on September 24, 2014, promoting interactions among microbial collection curators and academic, industry and government agency researchers with special emphasis on supporting microbial genome sequencing programs. More information is available at usccn.org/Pages/CultureCollectionGenomicsMeeting.aspx.
On Behalf of the USCCN Steering Committee
Kevin McCluskey, Ph.D., Fungal Genetics Stock Center, (PI, US NSF Grant DBI-1203112)
Kyria Boundy-Mills, Ph.D., Phaff Yeast Collection, UC Davis, CA
More Information:
US Culture Collection Network
American Society for Microbiology
World Federation for Culture Collections
World Data Centre for Microorganisms
The American Phytopathological Society