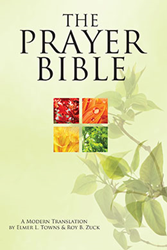 Scripture presented in a fresh, contemporary way that will help readers to connect with God.
Shippensburg, PA (PRWEB) September 09, 2014
On September 16, 2014, Dr. Towns will be available for book signing from 2:00 p.m. - 3:00 p.m. at the Liberty University Barnes and Noble, 1971 University Blvd., Lynchburg, Va 24515.
"Since the Bible is God's Word and it reveals God's heart, you'll become closer to the Lord as you pray the timeless truths of Scripture when talking to God," said Towns. "You're actually praying His Word to Him."
In "The Prayer Bible", the Scripture is presented in a fresh, contemporary way that will help readers to connect with God in powerful new ways. Using the Scriptures provided, readers will pray back God's Word to Him and learn how to personalize the Bible, watching the Word of God come alive like never before.
"The Prayer Bible will undoubtedly provide incredible encouragement and hope for so many who find themselves in life's darkest moments. " - Basyle Tchividjian, Executive Director, Godly Response to Abuse in the Christian Environment
"If you want to be like Jesus Christ, use the many different prayers of this Bible to know God, and let His faith work through you." - Stan Toler, Author and Inspirational Speaker
"The Prayer Bible" is available in bookstores everywhere.
To receive a free digital copy of Ephesians, Philippians and Colossians visit http://www.ElmerTowns.com for a special link and code.
Interviews, review copies and giveaway copies are available upon request.
Destiny Image, located in Shippensburg, Pa, was founded in 1983 by Pastor Don Nori, Sr. It seeks to accurately represent authors who have a call to share God's present Word to His people and to make these authors easily accessible to the Christian body around the world in every form of media possible.
FOR PRESS INQUIRIES, INTERVIEWS AND REVIEW COPIES:
Renee Grooms
rbgrooms(at)liberty(dot)edu