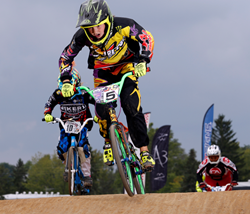 All around the country during the months of August and September, States are holding their USA BMX State Championship race - gathering the fastest riders from all counties to compete for the title of State Champion.
Akron, OH (PRWEB) September 18, 2014
Racers of all ages - both boys and girls, will compete for the day's awards as well as the title of Ohio State Champion in their age group. The race organizer, AKRON BMX, and its national sanctioning body - USA BMX, will award all State Champions with numberplates, State Championship backpacks and large trophies.
Since January, racers - as young as 4 years old up to over 60, have been competing at tracks all around the State, tallying up their best scores to be added to their State Championship Final finish. The racer with the most points in each age and division will earn the title of 2014 Ohio State Champion.
SCHEDULE FOR OHIO STATE CHAMPIONSHIP WEEKEND
OHIO STATE CHAMPIONSHIP SCHEDULE:
The Ohio State Championship Final weekend kicks off this Saturday September 20th and goes thru Sunday, September 21st at the AKRON BMX track located at 1000 Service Rd, Akron OH, 44306
PARKING and SPECTATING IS FREE - all weekend.
SATURDAY: Practice from 6:00 pm to 7:30 pm, with Racing starting at 8 pm under the lights.
SUNDAY: Practice from 10:00 am to 12:00 pm , with Racing starting at 1 pm.
Up to eight riders speed down the starting hill, maneuvering over dirt obstacles and around banked turns in hopes of winning a 4-foot tall first place trophy. On average, each race is a 35 second sprint, with full contact, close-knit racing with thrilling finishes and victories. The Olympic sport of BMX Racing is exciting to watch for all ages! BMX Racing is a sport for boys and girls of all ages - from 2 to 76, with three skill levels per age. In BMX, nobody sits on the bench.
# # #
About: AKRON BMX is a Non-Profit corporation in the state of Ohio, ran completely by volunteers with the purpose of promoting and managing USA BMX sanctioned Bicycle Motocross racing events in Akron,Ohio. We offer the local community a spring /summer / fall action sport that the entire family can enjoy. In BMX Racing no one 'sits the bench' and riders progress at their own pace participating in classes for those 5 years of age and under, all the way up through Adults of any age.
To learn more about us visit our website at http://www.AkronBMX.org or visit our Facebook page at https://m.facebook.com/AkronBMXtrack. You may also email us at ihs(at)cantoncityblueprint(dot)com or call us at 330-784-3777
ABOUT USA BMX: The American Bicycle Association (ABA) was formed in 1977 and is headquartered in Gilbert, Arizona. USA BMX organizes BMX racing for boys, girls and adults, throughout the United States, Canada, and Puerto Rico. With over 70,000 active members who compete on a weekly basis at over 370 racing facilities in 49 states, the Olympic sport of BMX Racing continues to grow. With a 29 event race schedule, USA BMX is the largest promoter of action sports in the country.
For more information about this press release please, contact:
Steve Fox
speedrcr43(at)gmail(dot)com
330-780-4514