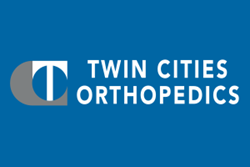 Minneapolis, MN (PRWEB) September 08, 2014
http://www.tcomn.com - Twin Cities Orthopedics, the largest orthopedic group in Minnesota, has entered into a partnership with six local high schools to become the official sports medicine provider for their student athletes.
The partnership responds to the changing nature of youth sports. More competition for fewer spots on high school teams has resulted in students specializing in one sport and training continuously all year long. In the past, students would play one sport in the Spring and another in the Fall, which would help prevent over-use injuries associated with continuous training.
"Our approach is to educate student athletes in the importance of keeping healthy, cross training and taking time to recover," said Troy Simonson, CEO, Twin Cities Orthopedics. "We don't just treat athletes; we coach them on how to train better to help them remain injury-free and be more successful in the long-run."
While many high schools already contract with a sports medicine provider, Twin Cities Orthopedics is offering a new kind of program that focuses on the overall well-being of the athlete and provides an unprecedented level of specialized care - right on school premises.
The program, which Twin Cities Orthopedics has successfully implemented in the college setting at the University of St. Thomas and Augsburg, is being introduced initially at Apple Valley, Blake, Eagan, Eastview, Edina and Rosemount high schools, but will continue to be rolled out to other high schools in the Twin Cities Metro.
"These high schools approached us looking for a full service program that would include everything from injury prevention and warm-up techniques to on-site physical therapy and treatment," said Simonson. "We bring our services to the school; students have constant access to our certified athletic trainers and don't have to travel to an off-site office for treatment."
"What has impressed me the most about Twin Cities Orthopedics is their level of commitment to providing the highest quality of care to our students," said Steve Tschida, Head Athletic Trainer, Edina High School. "I've been an athletic trainer here for 20 years and I am really excited to have a partner that shares my passion and pride in providing quality sports medicine services to our student athletes. TCO really wants to be the difference."
In addition to providing certified athletic trainers and volunteer team physicians, Twin Cities Orthopedics is donating money to each school's athletic departments to upgrade training room supplies.
"With an increase in our sports participation levels and the addition of new programs the demand for sports medicine supplies, quality protective equipment, and updated facilities continues to increase, said Tschida. "It can be challenging to generate the financial resources necessary to meet the growing needs of our athletic programs and without the hard work and donations from our Booster Club and third parties like Twin Cities Orthopedics, it makes it very difficult to purchase the necessary equipment and supplies that directly contributes to the overall success of our athletic programs and positive student-athlete experience."
About Twin Cities Orthopedics
For over 70 years Twin Cities Orthopedics has proudly offered a full spectrum of orthopedic care, devoted to the diagnosis, treatment, rehabilitation and prevention of injuries and conditions that affect the body's muscles, joints and bones. Twin Cities Orthopedics is the largest orthopedic group in Minnesota and one of the top three nationwide. http://www.tcomn.com