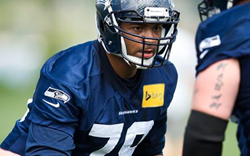 "It definitely feels good when you know all of your hard work paid off and you get a spot on the team," Gilliam said.
Hershey, PA (PRWEB) September 04, 2014
Milton Hershey School® (MHS) graduate Garry Gilliam 2009 will make his official NFL debut tonight as an offensive tackle for the defending Super Bowl champions Seattle Seahawks. Gilliam, an undrafted free agent, was signed this weekend as part of the Seahawk's 53-man roster.
"When people tell me there's a high chance that I can't do something or won't do something, it drives me to prove them wrong. So, it definitely feels good when you know all of your hard work paid off and you get a spot on the team," Gilliam said.
Gilliam enrolled at MHS, a cost-free, private, residential school for children from families of low-income, when he was seven years old. The school provided him with a top-notch education, structured home life and access to a variety of activities.
"There is a lot of support at Milton Hershey School, and the way the classes are structured definitely helped me in college. The school also can make you grow up, and if you embrace the opportunities, it can definitely benefit anyone," Gilliam said.
An honor roll student at MHS, Gilliam also played four sports. He was named an All-American, All-State and All-Mid Penn Conference honoree as a four-year starter, playing tight end and defensive end. He also participated in the Big 33 game.
"Garry is an excellent representation of the Milton Hershey School graduate who works tremendously hard to achieve a goal. His MHS family is extremely proud. It is always wonderful to see our graduates moving on and leading successful and productive lives postgraduation," MHS President Peter Gurt '85 said.
After graduating from MHS, Gilliam played four years as tight end and offensive tackle for the Penn State Nittany Lions. He graduated in 2013 with a double major in advertising/public relations, and management.
Gilliam will suit up for his first NFL game at CenturyLink Field in Seattle tonight against the Green Bay Packers at 8:30 p.m. The game will be televised nationally on NBC.
Click here to find out more about Garry Gilliam's journey from MHS to Seattle.
# # # #
ABOUT MILTON HERSHEY SCHOOL
Milton Hershey School® offers a top-notch education, state-of-the art facilities, advanced technology and a wide array of activities to children in pre-kindergarten through 12th grade from families of low income. This cost-free, private, coeducational school in Hershey, PA is funded by a trust established by Milton and Catherine Hershey. The school provides a positive, structured home life year-round and an excellent education, focusing on the whole child. Our vision centers on high-quality academics, college preparation, career readiness and providing children with the skills necessary to be successful in all aspects of life. Learn more at http://www.mhskids.org.