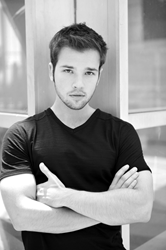 Every day, I hear from kids all over the world
Los Angeles, CA (PRWEB) September 05, 2014
Actor Nathan Kress (iCarly, Into the Storm) is set to take the stage at the Aratani Japanese Theater as a Presenter for the 12th Annual 168 Film Festival. But, first, the "tween" heartthrob will walk the red carpet with youth, ages 5-15, at the first ever 168KIDS! event.
Hosted by 168 Film as part of this year's special festival programming, 168KIDS! is a fun family event designed to transform young people into VIPs for a day. Featuring kid-friendly films, food, games and a special red carpet walk, the event takes place Saturday, September 13, 10am to 12:30pm, $5 per person, at the Aratani Japanese Theater in Downtown L.A. (244 S. San Pedro Street).
The highlight of the event occurs as Kress and a host of young stars hit the red carpet for photo opportunities with local kids. Also scheduled to participate are celebs including Carmina Garay (React To That), Nay Nay Kirby (Who's Watching the Kids), Noah Dahl (Mr. & Mrs. Smith), Mandalynn Carlson (Machine Gun Preacher), Kiana Lyz Rivera (Immigrant) and Tara-Nicole Azarian (It's Supernatural).
Kress is known for his lead role as Freddie Benson on Nickelodeon's hit show iCarly. He also co-stars in this summer's tornado thriller Into the Storm. Kress' involvement with 168 Film has an ironic history. His career got an early boost when he appeared in the 168 Film short, Bag by Kathy and James Choiniere. Though he didn't win for Best Supporting Actor, the Jury was so impressed with the then 14-year-old that Kress received an unprecedented "Honorable Mention" Jury Award for his role in the film. Nickelodeon's "iCarly" followed shortly thereafter.
Kress doesn't take his success or his popularity with young people lightly. According to him, "Every day, I hear from kids all over the world that look up to me and respect me for the way I live my life. And that's a phenomenal burden that can ONLY be carried by walking hand in hand with God," says Kress.
To read the full interview with Nathan Kress and 168 Film Founder, John David Ware, visit http://www.168film.com/NathanKress.
As a Presenter at the 168 Film Festival Awards Show, Kress joins an already all-star line-up; including four-time Emmy Winner Michael Learned (The Waltons); Kelsey Scott (12 Years a Slave); this year's Host, comedian Kerri Pomarolli (The Tonight Show, Comedy Central, Lifetime); Vincent Irizarry (All My Children, Heartbreak Ridge, Homeland); twice Emmy nominated actor Max Gail (Barney Miller, 42, Psych); Writer, Director Sean McNamara (Soul Surfer); Melissa Biggs (Baywatch, Dreamz: The Movie); Allie McCulloch (Homeland, Finding Amanda); Kim Estes (NCIS, Law & Order: L.A., The Closer); Melissa Disney (As Told By Ginger; Superman: Unbound); and Bryan E. Miller (film composer America, American Idol, Dancing With the Stars, Next Top Model, Access Hollywood.)
The awards show takes place Saturday, September 13, at the Aratani Japanese Theater in Downtown L.A., located at 244 S. San Pedro Street. (Red Carpet, 5:30pm-7pm; Awards Show: 7:30pm-9pm.)
168KIDS! SCHEDULE:
10am to 11am – Special screenings of kid and family-friendly films.
11am to Noon – Red Carpet Walk. Kids can strike a pose with photographers and celebrities. 168 Film partner, the Union Rescue Mission, is sponsoring local kids and their parents to join in the fun.
11:45am to 12:30pm – "Your Child and Hollywood." Experts discuss the world of young actors, presented by The Osbrink Agency.
The special kids event takes place during the 12th Annual 168 Film Festival, an international celebration of faith in film.
PHOTO OP: Multiple Stars Line Up To Strike A Kid-Friendly Pose
For press interviews with actors, filmmakers or 168 Film Founder, John David Ware; or to obtain press kits, B-roll, stills or film clips, contact the 168 Film offices at 818-557-8507. For the full schedule or more info, visit http://www.168film.com.
###