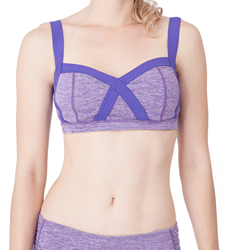 (PRWEB) September 09, 2014
BaliniSports Ranks High on Lucky Magazine's List of Essential Bras
Lucky magazine has chosen to rank a product from BaliniSports as one of the top six essential bras every woman should own. The brand's fitted yoga bra has been ranked third among pieces from household brands such as Adidas, Victoria's Secret, Under Armour and H&M. The publication praised the bra for its fashionable look and comfortable fit. The fact that the bra is designed using kinetic science for superior support was highlighted in Lucky's endorsement of the product. The review also pointed out that every seam in the bra is carefully measured. It is anticipated that customers will appreciate that the fabric in the bra is cut according to a calculated dimension to offer the highest level of compression available on the market today.
As a leading lifestyle and fitness magazine, Lucky has been engaging and influencing readers since its launch in 2000. It is known for informing and empowering its millions of readers in subjects related to health, fitness, fashion, popular culture and relationships. Being singled out by Lucky is viewed as a highly coveted badge of honor by international brands.
"We're absolutely thrilled that the editors at Lucky have given their seal of approval to our fitted yoga bra," said BaliniSports founder and president, Ada Hung. "What makes the honor even sweeter is that we were placed in a category with some of the leading giants in women's sports apparel." In addition to bras, BaliniSports offers a full range of yoga clothing. The complete clothing line offers pants, tank tops and shirts that are functional at the gym and stylish enough for all of life's occasions. BaliniSports has received a fair amount of praise from multiple publications in recent months because of the brand's commitment to using environmentally friendly methods and materials in the production of its products.
"We want women to have it all," said Hung. The brand is famous for providing elegant designs that can be mixed and matched to create everyday wardrobes. "Our collection allows for a woman to feel strong and flexible on the yoga mat and sexy and confident at a business lunch."
The fitted yoga tank featured in Lucky comes in a number of colors and sizes for women to choose from. The bra can also be paired with matching yoga pants to create a complete gym ensemble. Anyone interested in purchasing the bra or browsing the complete clothing line available from BaliniSports is invited to visit the company's website to shop online.