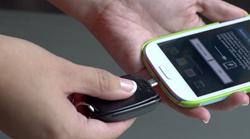 TalkON Micro USB Key Ring Chargers are currently available by backing our Kickstarter Campaign!
Atlanta, GA (PRWEB) September 08, 2014
The inventor Philip Jones partnered with Venture Electronic Products Corp (VEPC) to manufacture a convenient and lightweight solution to the average smartphone user's problem. With all of the functionality smartphones provide beyond the ability to make phone calls – texting, email, GPS, music player, etc – it is bound to run out of battery at the most inconvenient time. After being caught in a situation where just 1 to 2 more hours of charge was needed, the inventor landed on the idea of having the ability to charge a smartphone whenever and more importantly wherever needed. That is when the idea of a charger that is available on your key ring came about. After much work engineering and prototyping, the team came up with TalkON.
The TalkON key ring charger provides 1 to 2 hours of extra charge by simply turning on the switch and plugging it into a smartphone. The user is able to continue using the phone to finish up that important phone call, send out an email or get to a final destination using the GPS. When TalkON needs a power boost, the cord used to charge a smartphone is all it needs. There is an "off" switch which allows TalkON to keep its charge for up to a year when not in use.
The last step in bringing this product to market is raising enough funds to adjust the product molds slightly and mass produce. Kickstarter is a great way to get the word out there to those that are willing to invest in a great product.
TalkON has a page on Kickstarter and encourages consumers to check it out and pledge for one of the packages available. This gives consumers the opportunity to be one of the first to have that portable charge and the ability to TalkON before it hits the market!
Micro USB TalkON chargers are currently available through the Kickstarter campaign and the team is working on the Apple lightning key ring charger.
Check out the Kickstarter Campaign via the link below or by searching "TalkON" on Kickstarter.com https://www.kickstarter.com/projects/1847205083/talkon-a-smartphone-charger-that-attaches-to-your?ref=email