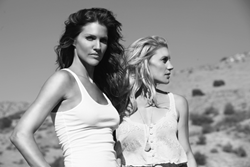 Our goal at Acting Outlaws has always been to do good while having fun and this ride is a perfect example of how effortless giving back can be. - Katee Sackhoff
Hollywood, California (PRWEB) September 06, 2014
The Acting Outlaws (@actingoutlaws), the charitable arm for actresses Katee Sackhoff (Longmire, Riddick, Battlestar Galactica) and Tricia Helfer (Ascension, Killer Women, Battlestar Galatica), today announced their First Annual PATH® Home - Charity Motorcycle Ride scheduled to take place on November 2, 2014 and which will benefit PATH.
The event will start near the foot of the Angeles Crest and wind its way up the beautiful Angeles Crest/Highway 2 to the historic Newcomb's Ranch. Katee said, "We are so excited to be hosting the 1st annual PATH Home ride. Our goal at Acting Outlaws has always been to do good while having fun and this ride is a perfect example of how effortless giving back can be. We look forward to riding with old and new friends on November 2nd."
Katee and Tricia will be leading the pack with other confirmed celebrity riders including Thom Barry (Cold Case), JR Bourne (Teen Wolf), Mark Derwin (Secret Life of the American Teenager), Vanessa Marcil (Las Vegas), Gilles Marini (Switched at Birth), Ed Quinn (Eureka), Christopher Redmond (CSI: Miami), Teddy Sears (Masters of Sex), Geoff Stults (Enlisted), George Stults (7th Heaven), Michael Trucco (Battlestar Galactica), Kurt Yaeger (Sons of Anarchy) and Owain Yeoman (The Mentalist), with others expected to be announced in the coming weeks.
According to Tricia, "We have been lucky to have been involved in rides such as the Kiehl's Liferide and the Tulip Ride, among others. We have a great group of friends that we often ride with, who have agreed to donate their time and join us on November 2nd to help raise money and awareness for homelessness with PATH - the leading organization in Southern California dealing with this staggering problem."
Due to space limitations at the culmination of the ride, the ride is limited to the first 250 motorcycle riders who register. Registration can be found at http://www.actingoutlaws.tv/events/. All profits from this fundraiser will support PATH in its mission to end homelessness in Southern California.
About Acting Outlaws
Acting Outlaws, LLC was organized by actresess Katee Sackhoff and Tricia Helfer in 2010 as part of Katee and Tricia's motorcycle trek from Los Angeles to New Orleans to film their documentary, The LALa Ride. The Acting Outlaws have participated in numerous charity motorcycle rides throughout the United States raising money and awareness for causes that are important to them.
About PATH
PATH is a family of agencies working together to end homelessness for individuals, families, and communities. We do this by building housing and providing supportive services in 22 locations from San Diego to San Luis Obispo. Last year, in honor of our 30th Anniversary, we set an ambitious goal to house 3,000 people by 2015 – 1,000 Veterans, 1,000 families, and 1,000 chronically homeless individuals. We are proud to announce that in the last 18 months, we have helped over 3,300 clients make it home.