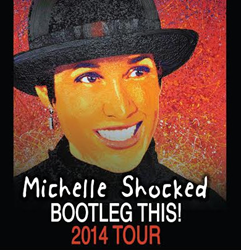 For over 20 years, acclaimed picker-poet Michelle Shocked has been generating compelling lyrics and mnemonic melodies.
Los Angeles, Calif. (PRWEB UK) 4 September 2014
Michelle Shocked will be on tour this fall to sing her 'short, sharp' signature songs. Beginning this October with a launch concert in Manchester, she'll be joined on her tour by Martin Stephenson, leader of the seminal UK folk-rock act The Daintees.
Her concerts will also preview a forthcoming audiobook Bootleg This! - her epic tale of social media misadventure featuring a foreword by Paul Krassner, an original member of Ken Kesey's Merry Pranksters. The tour has the following itinerary thus far:
Bootleg This! 2014 UK Tour
Oct 2014 UK Bootleg This!! Tour
Thu Oct 2 – Manchester UK Blue Cat Cafe
Fri Oct 3 – Newcastle UK Caedmon Hall
Sat Oct 4 – Edinburgh SCOT Mash House
Sun Oct 5 – Glasgow SCOT Woodend Bowling Club
Tue Oct 7 – Otley W Yorkshire UK Korks
Thu Oct 9 – Liverpool UK Lomax
Fri Oct 10 – Birmingham UK
Sat Oct 11 – London UK SOLD OUT
All info Here
Michelle has enlisted social media to inaugurate the UK tour, offering fans a glimpse into her unique perspective, as well as a chance to win her personal pair of 'Chucks' - that is, her smelly old Chuck Taylor tennis shoes, on Facebook She is posting on Twitter and Instagram as well.
Her passionate commitment to changing the 'conversation' concerning bootlegging, ad- sponsored piracy, content theft and 'copyfight' finds her heading straight into the fray this fall. Her vision is that of a sustainable and ethical internet for artists and creators.
For more information, or to interview the artist or preview/review the performance, please contact:
Contact: Jaime Campbell Morton
Phone: 415-952-7871
Email: artspromo(at)artspromo(dot)org