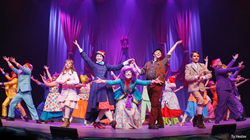 Lynchburg, Va. (PRWEB) September 04, 2014
Since the Tower Theater opened at Liberty University in the fall of 2010, community residents have enjoyed having Broadway-caliber performances produced in their own backyard. This season, Liberty University's performing artists continue to raise the bar with shows never before seen in Central Virginia.
"The Little Mermaid," "Peter and the Starcatcher," and "Moonlight & Magnolias" are all premiering for the first time in the region this season, joining a mainstage lineup that includes "A Man For All Seasons," "Charley's Aunt," "You Can't Take It With You," "South Pacific," "Everyman," "Parade," and "King Lear."
"There is something for everyone this year," said Linda Cooper, department chair and associate professor for Liberty's Department of Theatre Arts. According to Cooper, the audience can expect familiar music, dramatic situations, unconventional staging, and shows based on historical events.
The original flight director for Broadway's "Wicked" will also be visiting Liberty to coach the cast of "The Little Mermaid."
Tower Theater was voted the No. 1 entertainment venue for live theatre in the Reader's Choice 2014 Best of the Lynchburg Area list in The News & Advance.
The 2014-15 season includes shows produced by both the Theatre Arts department and Alluvion Stage Company, the university's professional theater company. Liberty is also collaborating with the Academy of Fine Arts for performances at the Warehouse Theater in downtown Lynchburg.
Out of all the shows in production for this year's season, Cooper is most excited about "Parade."
"It is a work of theatrical genius that is brilliantly written and emotionally stimulating. It is based on a true story and at the end of it you are still saying, 'How could this have really happened?'"
To purchase tickets, visit the Tower Theater website or call the Liberty University Box Office at (434) 582-SEAT (7328) during weekday business hours. On the night of a performance, call the Tower Box Office at (434) 582-2085. Season tickets are still available with premium packages (which include Alluvion shows) available until Sept. 19 and standard packages available until Oct. 17.
Fall 2014 Theater Mainstage performances
The Little Mermaid* Sept. 19-Oct. 5
A Man For All Seasons Oct. 17-26
Charley's Aunt Nov. 14-21
Spring 2015
Peter and the Starcatcher** Jan. 15-25
South Pacific Feb. 13-March 1
Everyman March 19-22
Parade* April 17-May 10
Moonlight & Magnolias** June 4-7

** Academy of Fine Arts/Liberty collaboration
About Liberty University
Liberty University, founded in 1971, is the largest private, nonprofit university in the nation, the largest university in Virginia, and the largest Christian university in the world. Located near the Blue Ridge Mountains on more than 7,000 acres in Lynchburg, Va., Liberty offers more than 450 unique programs of study from the associate to the doctoral level. More than 200 programs are offered online. Liberty's mission is to train Champions for Christ with the values, knowledge, and skills essential for impacting tomorrow's world.