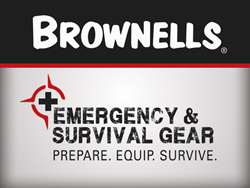 Having a plan and the equipment to execute it is vital when it comes to preparedness
Montezuma, Iowa (PRWEB) September 04, 2014
September is National Preparedness Month, and Brownells is prepared to keep customers equipped with the latest information and products to keep families ready for the unforeseen.
A Federal Emergency Management Agency (FEMA) initiative, National Preparedness Month is designed to raise awareness about the need for individuals and families to "Be Disaster Aware, Take Action to Prepare." FEMA and its Ready Campaign encourage Americans to "Be Informed, Make a Plan, Build a Kit, and Get Involved."
Throughout September, Brownells will lend its support to this effort by offering special deals on emergency & survival kits, food, water, shelter, power and other readiness products.
Brownells will also provide preparedness articles and videos with helpful tips on staying safe and ready while in and outside the home. Further, Brownells will be hosting preparedness-related contests and product giveaways at the Emergency & Survival Gear page at Brownells.com and on the Brownells' Facebook page.
"Having a plan and the equipment to execute it is vital when it comes to preparedness," said Matt Buckingham, Brownells President/COO. "Brownells is here to help with both of those objectives. We have a great selection of products, including some easy-to-buy kits, that can help get you through most any situation."
Brownells entire selection of Emergency & Survival Gear line of products can be found by visiting http://www.brownells.com/ESG.
Founded in 1939, Brownells provides premier firearms parts, ammunition, gunsmithing tools, reloading components, survival gear and archery products to customers worldwide. Brownells is dedicated to unmatched Selection, unrivaled Service and absolute Satisfaction, as proven by their industry-exclusive 100-percent Forever Satisfaction Guarantee on every product sold. Additionally, their professional gun and archery techs are available to answer customer questions on nearly any firearm or archery-related issue, free of charge. Consumers may order or get more information by calling 800-741-0015 or visiting http://www.brownells.com.