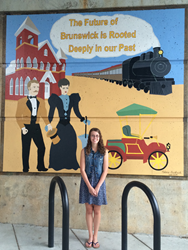 Brunswick, MD (PRWEB) September 08, 2014
Brunswick High School student Melanie Bambrick, 16, recently put the final touches – her signature and date -- on a reimagined outdoor mural in downtown Brunswick. The 9' x 9' mural is located along West Potomac Street near Beans in the Belfry on a pier supporting the Potomac River bridge.
A mural illustrating life in Brunswick in the early 1900s was painted at the site in 1981 by Brunswick High School students and their art teacher. The mural had faded over the years and the paint was peeling.
Brunswick Main Street was awarded funds from The Community Foundation of Frederick County to refurbish the mural. Proposals were solicited and Melanie's imagination, talent and local ties won over the committee.
Melanie had approximately 60 days to complete the project, which included planning, washing and preparing the surface, covering over the original mural, projecting and drawing her design on the pier, and painting the mural. Melanie worked in excess of 150 hours. Most of the work was completed on weekends, weather permitting, and evenings when she was not running track and doing homework.
Brunswick Main Street Chairperson Abbie Ricketts states, "We are excited to have Melanie work on the mural. Her ideas updated the mural while retaining all of its unique charm and character. Having another artist from Brunswick High School complete the work is even more fitting with the original mural." The reimagined mural preserves the historical character of the original images and maintains the theme "The future of Brunswick is deeply rooted in our past."
Melanie notes, "This project was a challenge, very different from anything I have ever tried as an artist. I enjoyed the experience of painting outdoors and was excited to contribute to my community. I learned so much and appreciate the honor of being chosen and having such a great opportunity as an artist."
"Brunswick now has a refreshed and refreshing mural for our citizens and visitors to enjoy," adds Ricketts