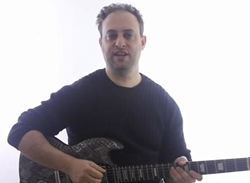 (PRWEB) September 04, 2014
Claude demonstrates how to play a Reggae strum using the chords A and G major in the second position which consist of; 7th fret of the 4th string with 3rd finger, 6th fret of the 3rd string with 2nd finger and 5th fret of the first and 2nd strings with first finger for A major and simply move that shape down one whole step for G major. Using these chord voicing's gives you the higher end of the chord voicing so that the bass player can handle the low end. "You basically strum on the two and the four", says Johnson, which he does for each chord and does a percussive palm mute on the one and three. For more lessons on Reggae head on over to GuitarControl.com.
Reggae was devolved from Ska and Rock Steady in Jamaica in the 1960's. Reggae is played in 4/4 timing exclusively because of its characteristic off beat style. Unlike most popular music that has musical accents on the down beat, Reggae is played on the off beat or up beat which gives it a very distinct sound and feel from other styles of music. Generally the rhythmic accents are on beats two and four and the Reggae off beat falls on the "and" of the down beats such as the "& of 1".
Claude Johnson
Claude Johnson, a native of Philadelphia PA, began playing guitar in 1990 after being inspired by players like Jimi Hendrix, Eric Clapton, and Stevie Ray Vaughn. He is the creator of GuitarControl.com and has helped 1000's of people to learn to play the guitar with his critically acclaimed instructional DVD courses, all available at GuitarControl.com
About GuitarControl.com
GuitarControl.com is the leader in modern guitar instruction. It's packed with recourses including articles, video lessons, and the best videos in the business for the beginner to the advanced guitar student taught by the best instructors out there. Weather you are into the blues, rock, jazz, metal, folk, or anything in between, they have you covered.