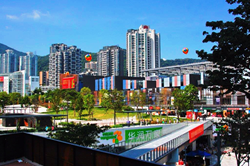 Vanke One City is really a place that links the mountains to the sea. In our minds, the project was always about that connection.
LOS ANGELES, CA (PRWEB) September 05, 2014
California international architecture firm, 5+design announces the completion and opening of Parcels 1 and 2 of Vanke One City, a specialized mixed-use project located in Shenzhen, China.
The project's design set out to reestablish the connection of forest, city and ocean as mirrored in the site's alignment between the Wutong Mountain peak, the existing government building and Mirs Bay. Vanke One City brings contemporary retail and living amenities to the region, with an activated park that engages visitors with the surrounding natural landscape.
The project's emphasis on community is most seen in its central park. Fashioned with fountains, an arena, relaxation points and an interactive play area for children, the central park demonstrates a level of ingenuity that is felt throughout the scope of the project.
"The park started out more like a spill-over space," said Senior Designer Abbie Chung. "But over time, we shaped it into a recreational park programmed with active spots to engage pedestrians as they make their way through the project's retail, office and residential spaces. It creates a place that gives people a variety of things to do, and is now an amenity that gives the project its focus. The park has made this project very special and people are picking up on that quality."
The project incorporates a 200-meter office tower, residential buildings, five-star hotel, four pavilions and three-level open air shopping center. These buildings surround the central park, creating an immediate destination within the city that gives visitors a variety of choices.
Mimicking the transition from forest to sea, the project's retail components gradually take on oceanic characteristics as they reach closer toward the waterfront. Patterned glass of turquoises and greens make up the façades of the sea-themed Bubble, Wave, and Sail buildings, while warm wooden slats used in the north buildings allude to the rich colors of the forest.
Once fully complete, Vanke One City will provide exclusive dining, shopping, office and living spaces totaling over 137 thousand square meters, nestled between the mountains and the sea.
"Vanke One City is really a place that links the mountains to the sea," said Principal Arthur Benedetti. "In our minds, the project was always about that connection. But initially, you could not see this axial relationship. So as we designed the project, our guiding principles were to create an interesting urban edge around the park, and to open up the visual linkage between the mountain peak, the government center and the bay."
Highlighting the interaction between casual living and nature, Vanke One City will create a mix of distinct experiences and sets a new precedent for the role green spaces play within commercial developments.