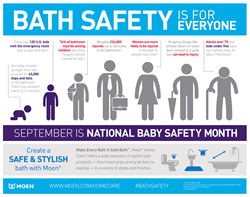 North Olmsted, Ohio (PRWEB) September 05, 2014
Parents take every precaution when it comes to protecting their little ones. From bike helmets to baby gates and car seats to cribs, child safety is always top of mind. But what about in the bath?
Slips and falls are common in this small and slippery space – especially for those under the age of five. As part of National Baby Safety Month in September, Moen Home Care is educating consumers about the facts surrounding hidden dangers in the bathroom as well as five easy tips to help make every bath a safe and stylish bath.
Fast Facts About Babies in the Bath
Annually, children younger than five account for 43,000 slips and falls in the bathroom. That's one accident every 12.5 minutes! *
74% of bathroom injuries among children less than 15 years old are caused by falls. **
Help protect your baby – even before they're born.
o 27% of women admit to falling while pregnant and 10% experience two or more falls.***
The most challenging, and potentially dangerous bathroom activity, is getting in and out of a bathtub safely.****
o Many rely on items that are not designed to support body weight, such as towel bars, soap dishes and shower doors.
Five Easy Ways to Make Every Bath a Safe Bath

Keep bath items – like shampoo – within easy reach.
Install tread strips for secure footing in the bath.
Add a nightlight to illuminate your nighttime visits to the bath.
Try a tub grip for extra stability.
Mount a hand grip or grab bar for safe transition in and out of the bath.
Moen Home Care offers nine-inch designer hand grips, available in the most popular finishes, to provide peace of mind and security.
Moen offers a variety of designer grab bar styles and finishes to fully coordinate with the rest of your bath. Accessories with Grab Bars combine a grab bar with common essentials, such as a towel bar, paper holder or wall shelf.
Join the Movement
Join Moen's safe bath movement and inspire others by sharing your bath safety updates on Twitter, Facebook or Instagram using the hashtag #bathsafety.
"Bath safety is no longer an exception – it's for everyone and every bath," said Tia Bahr, senior product manager, Moen Home Care. "We hope that as we share this information with consumers during National Baby Safety Month, it will help further our mission to make every bath a safe bath."
For more information about Moen Home Care products, visit http://www.moen.com/homecare.
###
*Center for Injury Research and Policy of The Research Institute at Nationwide Children's Hospital, 2009. Children 18 years and younger in the U.S. Study period was 1999-2007.
** National Center for Injury Prevention and Control, Centers for Disease Control and Prevention
*** Maternal and Child Health Journal
**** Moen Research
About Moen
As the #1 faucet brand in North America, Moen offers a diverse selection of thoughtfully designed kitchen and bath faucets, showerheads, accessories, bath safety products and kitchen sinks for residential applications – each delivering the best possible combination of meaningful innovation, useful features, on-trend styling and lasting value. In addition, Moen® Commercial offers superior performing products that deliver lower lifetime costs for today's facilities.
Moen's legacy of thoughtful design stemmed from an invention by Al Moen. In 1937, after burning himself at a sink with traditional single taps for hot and cold water, a young, determined Al Moen set about inventing a single-handle faucet designed to mix hot and cold. The invention, finalized in 1939, revolutionized the plumbing industry and set the stage for 75 years of innovation.
Moen is part of Fortune Brands Home & Security, Inc. (NYSE: FBHS), which creates products and services that help fulfill the dreams of homeowners and help people feel more secure. The Company's trusted brands include Master Lock and Sentry Safe security products, MasterBrand cabinets, Moen faucets and Therma-Tru entry door systems. Fortune Brands holds market leadership positions in all of its segments. Fortune Brands is part of the S&P MidCap 400 Index. For more information, please visit http://www.FBHS.com.
Contact:
Jennifer Allanson or Kristi Stolarski
Falls Communications
(216) 696-0229
jallanson(at)fallscommunications(dot)com
kstolarski(at)fallscommunications(dot)com