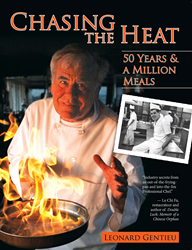 Choice is available to everyone, and one's place in life has everything to do with the choices he or she makes. Use your current situation as a stepping stone for improvement. It's not easy to initiate change...but change is what it takes.
Morro Bay, CA (PRWEB) October 14, 2014
Chef Gentieu's book takes the reader on a fifty-year journey from his beginning as a dishwasher, on to the Army mess tents, through a "day from hell" at one of his successful restaurants, to his thriving charter dinner cruise business. Chasing the Heat is an insider's exploration of the challenges and triumphs of a life in the kitchen—told with humor, frankness, optimism, photographs, and his favorite recipes!
Praise for Chasing the Heat:
"[Chef Len's abalone is] one of the best things I've ever tasted." –Dave Matthews of the Dave Matthews Band
"Dining out? Here's a glimpse to the secret world of chaos simmering behind the swinging kitchen doors. Prepare to be astonished." –Lynn Carter, retired President, Capital One Bank
"Rare insights. Medium mellow dramas. Well done restaurant view. Seasoned with love and laughter. Served fresh." –Bruce Schwartz, retired CEO, Sysco Foods, Los Angeles
Chasing the Heat is available as a paperback from Amazon and on Chef Gentieu's website: https://squareup.com/market/cth
Leonard Gentieu is a chef, restaurateur, entrepreneur and teacher with decades of experience. His professional record is both varied and deep. An honors graduate of the Culinary Institute of America, he also served with the U.S. Army as a chef for two three-star generals. He has owned and operated five restaurants and spent the '90s in a number of Executive Chef and management positions at restaurants, resorts and clubs throughout Central California. Currently Chef Gentieu and his wife, Midge, own and operate Papagallo Yacht Charters in Morro Bay, California. For more information on the Papagallo II, visit [http://onboardnauticalevents.com/