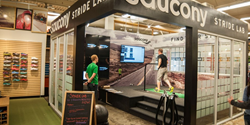 "At CONTEMPLAS we strive to deliver groundbreaking products that change the way motion is analyzed."-Thomas SeeholzerManaging Director of Research and Development CONTEMPLAS GmbH
Denver, Colorado (PRWEB) September 08, 2014
The running industry is increasingly turning to technology to both design and sell running shoes. The recently released Saucony Stridelab is one example of how technology is changing the game in the running industry.
When Saucony sought out a partner to create a unique running experience in a retail setting, they contacted zFlo, Inc. Combining Saucony's running expertise and experience with zFlo's technical know-how with motion analysis systems, the Stridelab has become a go-to destination for runners in Colorado. Featured at the Boulder Running Company in Cherry Creek, Colorado, the Stridelab is comprised of an instrumented treadmill with 4 high-speed cameras – all streaming data through a custom software designed specifically for Saucony. A Saucony Stridelab Analysis is truly unforgettable, as many popular running bloggers and journalists have already noted. With knowledgeable and well-trained staff, the Stridelab showcases Saucony's scientific approach to looking at and improving upon running form.
The software, developed by zFlo and their German partners at CONTEMPLAS, GmbH, enables the operator to display the ground reaction force vectors (GRFV) for each runner as they move through their stride – thereby offering a thoroughly objective insight into how each individual runner might benefit from slight changes in form or footwear. This is truly a novel approach to assessing form, and it is quickly gaining popularity in the clinical world.
The Saucony Stridelab is a fantastic example of the zFlo and CONTEMPLAS approach to business: teaming the highest-quality hardware with the best software possible to create a solution that fits the needs of the end-user. In this case, one of the primary concerns was ease-of-use, and integration of the instrumented treadmill. Both concerns were tackled quickly as zFlo and CONTEMPLAS have always maintained a strong focus on both issues: usability of software/systems and functionality with additional devices and systems. TEMPLO, the software at the core of the Stridelab experience, is designed for clear and direct workflow – which is among the many reasons it is so popular with physical therapists and coaches who are seeking a way to analyze gait and running form. Additionally, TEMPLO is designed to complement any additional systems a facility or clinic already has – whether a force platform or treadmill, or an EMG system, TEMPLO can stream synchronized high-speed video and sensor-data with ease.
While the Stridelab represents one of the more exciting and high-end solutions that zFlo has delivered recently, it is opening up many peoples' minds about other possibilities for this type of technology. From Olympic training centers in Europe and Asia, to additional running specialty stores, zFlo and its partners are growing all areas of their business and expertise.