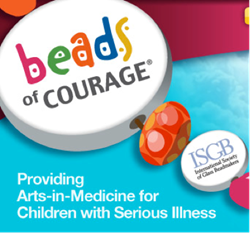 It's an honor to use our platform at JTV this month to help keep the Beads of Courage mission moving forward.
Knoxville, Tennessee (PRWEB) September 04, 2014
Jewelry Television (JTV) and Beads of Courage, a non-profit organization dedicated to encouraging seriously ill children, are partnering for a month-long national campaign to raise awareness and support throughout September. JTV is the presenting sponsor and is encouraging donations of $5 or more on their website. On September 20, JTV will host an on-site event at their Knoxville headquarters for National Bead Challenge Day from 10 a.m. to 4 p.m. Community members are welcome to come experience glass bead-making demonstrations and receive a make-and-take Courage Clip, along with door prizes and giveaways.
"Our partnership with Beads of Courage is very meaningful for the JTV staff, as well as our loyal viewers and fans," said JTV's Vice President of Marketing Jill Johnson. "The hand-crafted beads become lifelines of encouragement for these brave children who face tremendous challenges. It's an honor to use our platform at JTV this month to help raise the funds needed to keep the Beads of Courage mission moving forward."
The Beads of Courage provides Arts-in-Medicine for children with serious illness. Handmade beads are provided to children with each telling a story of strength, honor and hope. Every bead commemorates a milestone in a child's treatment journey. The beads have grown in popularity, and young patients enjoy collecting them.
"We're excited about this month-long campaign and how our JTV community and fans can directly impact these young children," said Johnson. "We're asking people to donate through our website and also come to our event on September 20 to watch the bead-making and meet some of these courageous kids and their families."
Visit JTV's website to make a donation. The JTV National Bead Challenge on September 20 is free to the public and will be located at 9600 Parkside Drive, Knoxville, TN, 37922. For more information, call 865-692-6000.
About Beads of Courage: The mission of Beads of Courage (BOC) is to provide innovative arts-in-medicine programs for children coping with cancer and other serious illness, their families, and healthcare providers who care for them. BOC programs are evidence-based interventions designed to strengthen resilience, alleviate suffering, and improve the psychosocial adjustment process. Beads of Courage currently serves 260 member hospitals in the United States, Canada, United Kingdom, Japan and New Zealand. BOC is a 501(c)(3) tax-exempt organization. For more information, visit http://www.beadsofcourage.org.
About Jewelry Television®: Jewelry Television® (JTV) is one of the largest multichannel retailers of jewelry and gemstones in the U.S. appealing to fashion-conscious women, jewelry-making enthusiasts and private collectors. The privately-held shopping network broadcasts high definition programming, 24 hours a day, seven days a week, to more than 80 million U.S. households. Committed to consumer education, the network employs numerous Graduate Gemologists and Accredited Jewelry Professionals. JTV.com offers the most comprehensive jewelry and gemstone Learning Library on the internet, and is the third largest jewelry website according to Internet Retailer's Top 500 Guide for 2012.
# # #