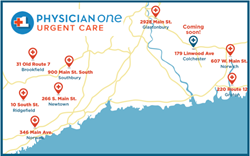 Our growth is attributed primarily through the trust we have earned from our patients. We take patient satisfaction very seriously, and as a result we are able to grow through our hard-earned reputation
Brookfield, CT (PRWEB) September 05, 2014
PhysicianOne Urgent Care, the largest physician-owned urgent care provider in Connecticut, announces further expansion of at least six additional locations to blanket the state in almost every county through the first quarter of 2015. By mid-2015 the company also plans to open more locations outside of Connecticut in the neighboring states of Massachusetts, Rhode Island, and New York. "Our growth is attributed primarily through the trust we have earned from our patients. We take patient satisfaction very seriously, and as a result we are able to grow through our hard-earned reputation," said Dr. R. Robert Rohatsch, Chief Executive Officer of PhysicianOne Urgent Care. "We look forward to providing our signature expert, professional, and friendly care to patients in the communities and towns neighboring both our current and new locations – on their schedules, and on their terms."
PhysicianOne Urgent Care's expansion plans will move forward with the opening of its next new location in Colchester, CT in November 2014. Colchester will be the company's ninth location. In addition to Colchester, PhysicianOne Urgent Care will add in-state locations in several other Connecticut communities over the next several months. The rest of the expansion in Connecticut and neighboring states will stretch into the first quarter of 2015.
A provider of expert medical treatment for non-life threatening and non-limb threatening illnesses and injuries, PhysicianOne Urgent Care sees patients without appointments. Walk-in services are available 365 days a year from 8 A.M. to 8 P.M. weekdays and 9 A.M. to 5 P.M. on weekends and holidays. In addition to offering expert medical treatment to individuals and families for acute illnesses and injuries, PhysicianOne Urgent Care also offers Occupational Health and Worker's Compensation services to employers.
About PhysicianOne Urgent Care
Established in 2008, formerly operated under the name Urgent Care of Connecticut, PhysicianOne Urgent Care is doctor owned and operated. As the first urgent care clinic in Connecticut to be accredited and certified by the Urgent Care Association of America, and accredited by The Joint Commission, PhysicianOne Urgent Care takes great pride in its practice of evidence based medicine, a patient first philosophy, providing a cost effective alternative to the Emergency Room, and being a convenient alternative to primary care physicians during off or peak hours. PhysicianOne Urgent Care provides walk-in treatment for a wide array of illnesses and injuries. On-site services include X-ray, lab services, and a medication dispensary.
All locations are open 365 days a year. Experienced doctors are on-site at all times. Most insurances and Medicaid accepted. For more information, please visit http://www.physicianoneurgentcare.com.