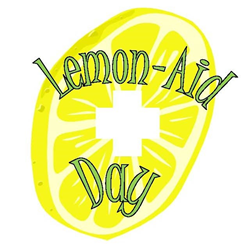 The RockFish Groups CEO, Kelle Kitchel-Cooper brought us the concept and West Sound, created a twist on the original concept.
Poulsbo, Washington (PRWEB) September 08, 2014
West Sound Academy (WSA), an Independent International Baccalaureate World School, located in Poulsbo, Washington and students at the middle school have been preparing for several months for Lemon-Aid Day by conducting practice market days at school. During market days student sellers bring in treats or crafts that they sell to student buyers. The student buyers are issued pretend WSA dollars to use for purchases. Overall the exercise is intended to promote entrepreneurialism, financial awareness, and marketing skills.
A group of student volunteers is preparing to put their skills to good use during the annual Kitsap Color Classic bicycle tour that takes place around the North Kitsap region on September 21, 2014.
"Cascade Bicycle Club has been so accommodating to allow us to partner with them on this effort to give students a safe venue in which to sell their lemonade and during an event that draws people to our sales locations," says WSA Head of School and Lemon-Aid Day organizer, Barrie Hillman.
Hillman first learned about this idea from a similar event started in Austin, Texas through Kelle Kitchel-Cooper of The Rockfish Group. Working together, Kitchel-Cooper and Hillman have also partnered with the City of Poulsbo and Poulsbo Chamber of Commerce to get the event off the ground.
Poulsbo Mayor, Becky Erickson has been a champion of Lemon-Aid Day and she noted that, "Today, the top two factors in a business deciding where to relocate are: Is education strong? And, Does the community promote entrepreneurial efforts," said Mayor Becky Erickson of The City of Poulsbo. "Lemon-Aid Day addresses both. Plus, it involves our kids in something productive, educational, and fun. It doesn't get any better than that."
About twelve students from WSA will build and decorate two or three stands with will be located at strategic places along the Kitsap Color Classic route. The students are responsible for developing their own infused lemonade flavors, decorating their stand to promote the charity the stand is raising money for and for operating the stand during the bike tour.
"At West Sound Academy, students participate in all sorts of creative, active and service learning opportunities and Lemon-Aid day embodies all of those learning experiences because the student groups each chose a charity that is important to them, they design their own stand and they have to operate the stand all day as well, " says Hillman. The proceeds from the three stands will be donated to Fishline, Kitsap Humane Society and The Red Cross. Each Lemon-Aid Day stand will be decorated in the theme of their charity.
"We all liked the idea of choosing three charities that cover three groups. There is one that helps people, one that helps animals and one that is focused on helping both in disasters. All of these things are important to me," says sixth grade student, Alice Cowie.
In addition, WSA is seeking business sponsors who can help provide "start-up capital" for each stand. For $115 one Lemon-Aid Day stand will have enough capital to pay for the stand materials and their inventory of lemonade they are selling. Sponsors will have their corporate logo on the stand as well.
For more information on Lemon-Aid Day please contact Barrie Hillman at 360-598-5954 or bhillman(at)westsoundacademy(dot)org