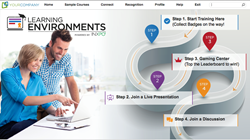 Our Learning Platform leverages rich social, interactive features & gamification to deliver a compelling learning experience.
(PRWEB) September 05, 2014
Elearning! Magazine has announced the finalists for The Best of Elearning! 2014, and INXPO have been chosen once again as a finalist for the Best Virtual Learning Environment category. In 2013, INXPO accepted an Award of Excellence for Best Virtual Learning Environment and hopes to make this back-to-back wins.
INXPO's Learning Environments solution offers an award-winning platform to conduct learning and collaboration through open content sharing. Learning Environments allow users to see who else is taking the same course, aggregate existing content for continued learning, and incorporates an intuitive design for easy navigation and workflow for the consumption of content. The Badging and Gamification reward system adds a layer of excitement, enabling people to connect, and collaborate through friendly competition.
INXPO is honored to be nominated once again for this prestigious award and to be recognized by Elearning! as a leader in the Virtual Learning Environment space. Emma King, VP of Learning at INXPO commented, "We are excited to be nominated again for the Best Virtual Learning Environment by Elearning!. Our Learning Platform leverages rich social, interactive features and gamification to deliver a compelling learning experience. This allows users to view measurable results with complete certification and testing capabilities."
The Best of Elearning! 2014 Awards winner ceremony will be conducted at the Enterprise Learning! Summit (ELS) on Jan. 15, 2015. This industry event offers executives the opportunity to network, share and learn about the best learning options and dialogue directly with technologists and learning leaders, all in one place.
For more information about INXPO's Learning environments, please visit http://www.inxpo.com/learning-environments/ or view our solution sheet to learn about additional features and use cases of the award-winning platform.
About INXPO
INXPO's next-generation webcasting solution helps organizations communicate in a more interactive manner with their employees, customers, prospects, partners, and members. Each webcast can be deployed as a link on a website, in an email, in an Online Event on our award-winning event platform, as part of an ongoing 365 Learning Environment or inside our Social Business TV product.
Serving more than 3,000,000 audience members globally, INXPO's webcasting solution is robust enough to exceed your technology requirements, but interactive and flexible enough to meet the needs of your audience.
To learn more about how INXPO can fit into your organization's communications strategy, please visit http://www.inxpo.com, email us at contactsales(at)inxpo(dot)com, or call us at (312) 962-3708.
About Elearning! Media Group
Elearning! Media Group serves the $220 billion enterprise learning market. Elearning! Media Group, owned by B2B Media Group, LLC, consists of 13 media products including: Elearning! magazine, Government Elearning! magazine, e-magazines, e-mail newsletters, Alerts, website, Web Seminar Series, Elearning! Institute, Enterprise Learning! Summits and Enterprise Learning! Conference & Expo. In combination, these brands reach more than 2 million executives, practitioners and professionals, all evaluating or implementing enterprise learning and workplace technologies across their organizations each year. Suppliers and practitioners can follow us online at http://www.2elearning.com.