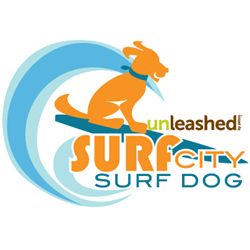 HUNTINGTON BEACH, Calif. (PRWEB) September 04, 2014
Dog owners hailing from as far as Florida, Canada and Brazil will be packing up their pups and bringing them to sunny Huntington Beach to participate in the Unleashed by Petco Surf City Surf Dog® event. Held September 26 - 28, the centerpiece of this event features a multi-heat surfing competition with dogs as the contestants. The weekend-long event also features a "Yappy Hour" Red Carpet event, a PAWabunga Costume Contest, a Dog Surfing History Exhibit and the inaugural International Surf Dog Walk of Fame.
"This is such a high-energy, entertaining weekend for pets, pet parents and surf fans alike," says Lisa Scolman of Book That Event, LLC, the event organizer. "There's something for everyone throughout the weekend."
Surf City Surf Dog entrants will compete in Shredder/pro heat, four weight-class divisions, as well as a tandem heat, and will be judged on a variety of skills, including the duration of their ride and their confidence on the board. Marine conditions, such as the size of the wave, will also be taken into consideration. Prizes will be awarded to the top dogs but, of course, all pooches will be winners and will receive a commemorative participation medal.
"As a Southern California-based company, we're excited to host such a fantastic event that not only embodies our local surf culture, but provides a fun day of bonding for pets and pet parents," says Evan Harding, Director of Marketing for Unleashed by Petco.
This event is part of the Double-Dog Dare Surf Series, which included the Unleashed by Petco Surf Dog event that took place at Imperial Beach in San Diego in July. Dogs who compete in both events will receive a special towel sponsored by Pooch Hotel.
For more information or to register, please visit http://www.surfcitysurfdog.com.
Event Schedule:
Friday, Sept. 26
Shorebreak Hotel (500 Pacific Coast Highway, Huntington Beach, CA)
6:00 p.m. Yappy Hour, Red Carpet photos
6:45 p.m. Opening Ceremonies
7:00 p.m. PAWabunga Costume Contest
8:00 p.m. Awards
Saturday, Sept. 27
International Surfing Museum (411 Olive Avenue, Huntington Beach, CA)
3:00 p.m. - 9:00 p.m. Dog Surfing History Exhibit
6:45 p.m. - International Surf Dog Walk of Fame Induction Ceremony
7:00 p.m. - 9:00 p.m. Refreshments and Dog Surfing Movies
Sunday, Sept. 28
Huntington Dog Beach (Pacific Coast Highway at Goldenwest Street)
8:00 a.m. Surf Dog Check-in opens
8:30 a.m. to 1 p.m. Canine Expo
9:00 a.m. to 1:30 p.m. Unleashed by Petco Surf City Surf Dog®
2:15 p.m. "I and Love and You" Awards/ Closing Ceremony (Immediately following surf finals at The Shorebreak Hotel)
Registration fees vary for the activities.
Yappy Hour/Opening Ceremony is $10 for pre-registration online, $12 at the door.
PAWabunga Costume contest is $20 for pre-registration online, $25 at the door (registration by 9/25/14).
Registration for these events includes Doggie Goodie Bag & 1 Raffle Ticket. Additional raffle tickets for Chinese Raffle will also be for sale. Cash, Check and Credit Card will be accepted; all raffle ticket and Yappy Hour admission benefit the 2014 Charity Partners.
Surf Dog Competition: $50 + Credit Card Convenience Fee. You must pre-register.