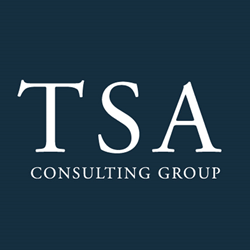 Kevin and Robert bring a wealth of experience to these important positions at TSACG. We are confident in their abilities to support the continued success of our company and maintain our value to the market
Fort Walton Beach, Florida (PRWEB) September 29, 2014
TSA Consulting Group (TSACG) owners and partners Joe Rollins, President/CEO, and Steve Banks, Executive Vice President, today announced the promotions of D. Kevin Hensley and Robert Ard as a result of realignment and growth of the company.
Kevin Hensley has been appointed to the position of Senior Vice President - Chief Operations Officer, and he replaces Steve Banks who served as COO for the past two years. Mr. Hensley joined TSACG in 2011 as a result of the company's acquisition of Cincinnati, Ohio, based Great American Plan Administrators (GAPA). His efforts during that transition as well as his contributions to the company's procedures and ongoing daily operations were recognized with this appointment.
Robert Ard was appointed to the position of Senior Vice President - Chief Compliance Officer, which was created to address departmental efficiencies as well as internal systems and processes with regard to regulatory compliance for the retirement plans that TSACG administers. Mr. Ard joined the TSACG team in 2002, and his knowledge and experience are well suited to this new position.
"Kevin and Robert bring a wealth of experience to these important positions at TSACG," said Joe Rollins, President/CEO of TSACG. "We are confident in their abilities to support the continued success of our company and maintain our value to the market."
TSACG is an independent provider of retirement plan compliance and administration services primarily to public education employers. TSACG is not affiliated with any investment product provider and does not offer investment advice. More information about the company can be found on their website https://www.tsacg.com.