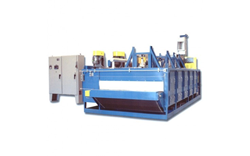 Chattanooga, Tennessee (PRWEB) September 08, 2014
Davron Technologies, Inc. designed and manufactured the DTI-762, an electrically heated indexing conveyor oven designed to cure automotive brake pads. Prior to purchasing the DTI-762, Davron's customer was curing the product using inefficient batch processes in which heated parts lost heat while being staged for the next available oven. With the DTI-762 indexing conveyor oven, parts are loaded in baskets and placed immediately on the oven's conveying system after being pressed, retaining their stored heat. This resulted in approximately a 25-percent faster cure cycle that produces a more consistent cure and uses less energy.
The DTI-762 features four individual zones of control. Each zone utilizes its own electric heater (controlled by SCR), circulation fan, and exhaust fan, and is capable of operating between 200ᴼ and 500ᴼF. The individual zones of control, along with the SCR controlled electric heaters, allow the oven to operate as efficiently as possible. Vertical doors separate the heating zones allowing each zone to operate at different temperature profiles. For example: Zone 1 may operate at 200⁰; zone 2 may operate at 300⁰F; zone 3 may operate at 400⁰F; and zone 4 may operate at 500⁰F. The number of index positions per zone determines the product dwell time in that particular zone. The conveying system utilizes a flat wire belt and moves parts through the entire system by indexing each basket a predetermined distance based on production requirements. There are multiple baskets loaded across the width of the conveyor belt. The DTI-762 has a curing chamber and cooling chamber in-line. The cooling chamber uses high velocity air to cool the pads to approximately 140ᴼF. Airflow within the entire system follows a vertical top-down pattern.
The overall dimensions of the oven are 10'11" wide x 5'7" high x 22'0"long. The dimensions of the curing chamber's useable interior are 7'8" wide x 1'6" high x 21'4" long. The interior of the oven is made out of 16-gauge aluminized steel backed by six inches of eight-pound density mineral wool insulation. The exterior is constructed from 16-gauge carbon steel and is backed by a structural steel frame and finished with high temperature paint.
Davron designed the DTI-762 indexing conveyor oven based on two criteria provided by the client: the production rate per hour and the estimated time for the curing cycle. Davron did extensive testing to determine the temperature profile needed to meet these requirements and used this information as the basis for the custom design of the DTI-762. At Davron's recommendation, the customer incorporated multiple zones of independent control to achieve the desired process. Once the indexing conveyor oven was manufactured, Davron did acceptance testing and training with the customer at Davron headquarters in Chattanooga, Tenn., prior to shipment.
Visit http://www.davrontech.com for more information about Davron's indexing conveyor oven capabilities for the automotive industry. Or, if you'd like to discuss your own industrial oven project, please call Davron's Vice President, Jimmy Evans, at (888) 263-2673, or fill out Davron's online quotation form.
About Davron Technologies, Inc.
Davron Technologies, Inc. custom fabricates industrial ovens, providing turnkey design and system integration services to develop thermal processing solutions. Davron is a total industrial oven manufacturer, creating custom industrial ovens and precision process equipment for every industry that requires thermal processing. Each Davron industrial oven is custom built according to customers' unique specifications. As the Provider of Industrial Oven Solutions, Davron offers one of the largest selections of in-house and on-site industrial oven services in the world.
###