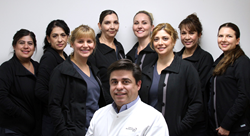 Receding gums can now be corrected without scalpels or sutures.
Downey, California (PRWEB) September 11, 2014
Receding gums are a real problem many people suffer through. Now a new breakthrough treatment, the pinhole gum lift, offers real relief, and is being offered by acclaimed Los Angeles area Dentist John McAllister DDS Inc. The early response has been wildly enthusiastic.
Gum recession is a very common dental problem. Brought on by a number of factors, including the natural aging process; diseases like gingivitis, periodontitis and advanced periodontitis; and other possible factors, it can be both an eyesore and an increasingly serious health concern. Fortunately, in the Los Angeles area, there's now a breakthrough treatment available that many experts are pointing to as a solution to this problem. Enter John McAllister, DDS who has recently announced he is now offering the Pinhole Gum Lift. The Pinhole Surgical Technique is being widely pointed to as a innovative and cutting edge way to treat receding gums free of many of the issues with "old school" surgical options.
"We are very excited to be offering pinhole gum lifts here at our practice," commented a spokesperson from McAllister's office. "The results from the pinhole gum lift are really remarkable, and there's few people anywhere with the experience in the technique as John Mcallister, DDS. Even his tools were custom made!"
Gum recession carries many serious concerns, beyond its unsightly appearance. Eventually the root structure of the teeth are exposed. This opens up the teeth and gum line to disease and infection from underneath, which, obviously, is not a situation anyone wants to smartly experience. The pinhole gum lift can help prevent this very real problem.
According to Dr. McAllister, the technique itself is not one that any patient should be overly concerned about receiving. It's as close to noninvasive as possible, with only a needle is used to make a small hole in the patient's existing gum tissue. Special high tech instruments are then used to enter the tiny hole and help to expand the gum line to cover any expose root structure. This takes place in the office and doesn't involve any grafts, sutures, or even incisions. This sets the Pinhole Surgical Technique far apart from other options like traditional gum grafting.
Most of all, most people agree, the end results are far superior. The gum line is left looking natural, there's little patient discomfort and the treatments effects last, generally speaking, for a very long time.
Patients have been quick to give a full endorsement of not only the pinhole gum lift, but also of Dr. McAllister's overall practice from A to Z.
His reviews are perfect on Google +, Yahoo and beyond.
A recent Google + review went into some detail, " I have been a patient at Dr. McAllisters for over 6 years, I met Dr. McAllister through the Downey Chamber of Commerce. I knew from that day, that if a Dentist was taking the time to educate and be involved in his community it was because he truly cared. I decided to leave my dentist I had been with for over 8 years for Dr. McAllister. It was the best decision I've ever made. Dr. McAllisters staff, is friendly and very nice to deal with. Dr. McAllister is very approachable and very knowledgeable. The equipment used in his facility is state of the art, and they are very concerned with your satisfaction. My brother and his entire family is now a Dr. McAllister family as he still raves about the great job he did on my 2 yr old nephews tooth. He saved his little smile and we are all thankful for that! Thanks again, Dr. McAllister."
For more information visit Downey Dentist http://www.johndds.com.