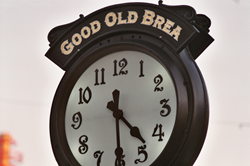 Brea, CA (PRWEB) September 09, 2014
Welcoming visitors to Downtown Brea, the historic Brea clock has stood since 1975. Located on the corner of Birch St. and Madrona in Downtown Brea, the clock is a historical landmark for the city. Following an extensive restoration and rebuilding, Brandywine Communications is proud to welcome the clock back to historic Downtown Brea.
This restoration is the culmination of a meticulous four year effort by Brandywine Communications to rebuild and rewire the clock, bringing it into the twenty-first century. Building on their previous experience with places such as New York's Grand Central Terminal, Brandywine Communications led a team of experts in a painstaking restoration and upgrade of the clock, to allow it to keep functioning in all weather.
The new time-setting mechanism is strongly protected against the rain elements, and is fully capable of setting itself and keeping an accurate time without the need for an operator to adjust the clock by hand. For any adjustments that do need to be made, the operator can do so from the ground level, saving taxpayer dollars.
The redesigned Brea Clock also features bright LED lights in place of the previous incandescent bulbs, providing a much smaller carbon footprint for the continuous operation of the clock, while lasting ten times longer.
The historic Brea Clock will keep on ticking to give downtown Brea its own unique feel, and Brandywine Communications is proud to be a part of that.
Brandywine Communications is a privately held company and is headquartered in Tustin CA
For more information, please contact Brandywine Communications at media(at)brandywinecomm(dot)com