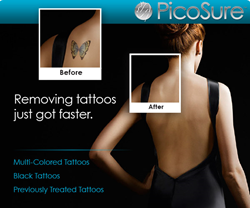 Tattoo regret? You're not alone.
Pinehurst, NC (PRWEB) September 09, 2014
The Laser Institute of Pinehurst has served patients with effective skin care treatment for over eight years, and has recently added tattoo removal with PicoSure laser to the services being offered. The breakthrough technology often requires fewer treatments than traditional Q-Switched lasers. Also, PicoSure patients and doctors have reported better clearance (or "disappearance") of the tattoo with improved recovery time.
For those who harbor tattoo regret stemming from outdated art, a messy job, or a symbolic gesture that has lost its significance, you now have a chance to start fresh with a clean canvas. Whether the goal is to clean up the lines of an existing tattoo or totally remove it, The Laser Institute of Pinehurst, office of Ofelia N. Melley, MD can help with the assistance of the first FDA-cleared picosecond aesthetic laser, PicoSure. Recognized as the first significant improvement in the treatment of tattoo removal in over 20 years, PicoSure can effectively erase tattoos with fewer treatments and better results.
"Just like a relationship, tattoo trends can easily come and go, leaving one wondering years later what the reason, or lack thereof, of getting the tattoo was in the first place," states Dr. Melley. "Some people ask to remove all traces of ink, while others choose to cover it up with another tattoo. They can then come in for laser treatments to clean up what can't be covered."
An unparalleled breakthrough in tattoo removal technology, PicoSure's PressureWave gently delivers ultra-short pulses of energy to the tattoo ink in trillionths of a second without injury to the surrounding skin. This shatters the ink into tiny particles that are easily eliminated by the body. Based on physician studies PicoSure has proven efficacy on difficult ink colors, as well as previously treated tattoos, for better clearance with fewer laser treatments and improved recovery time.
Surveys results vary but it is estimated that 1 in 5 Americans have at least one tattoo. According to The America Society for Aesthetic Plastic Surgery (ASAPS), more Americans received tattoo removal treatment in 2013 than in past years. Up by 11% in 2013, tattoo removal has also seen a boost from different age groups as more American adults marked their middle age by trading out their old tattoos.
Interested in learning more about The Laser Institute of Pinehurst and tattoo removal, visit http://www.pinehurstlaser.com or call 910-295-1130 for a complimentary consultation.