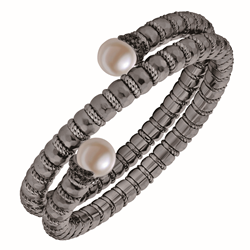 New York, NY (PRWEB) September 05, 2014
Gabriel & Co. is partnering with iconic fashion designer, Carmen Marc Valvo, on a co-branded fine jewelry collection, aptly named, Carmen Marc Valvo by Gabriel & Co. The collection will debut on Valvo's Spring 2015 runway at Mercedes Benz New York Fashion Week. Featuring cuffs, bracelets, earrings and cufflinks all set with colored gemstones and pearls, the collection is handmade with sterling silver in celebration of both Valvo's and Gabriel's respective 25th (silver) anniversaries this fall. This is first time Valvo—a lifestyle brand in his own right with successful lines in the fashion, accessories, footwear, swimwear, eyewear, bridal and fur categories—has designed fine jewelry. Carmen Marc Valvo by Gabriel & Co. also marks Gabriel's first fashion collaboration and is being launched in tandem with both brands' inaugural men's capsule collections.
Carmen Marc Valvo by Gabriel & Co. marries vintage looks with modern details, paying homage to some of the most iconic jewelry styles of the twentieth century. Designed to compliment Valvo's Spring 2015 ready-to-wear and couture collections, highlights include: vintage inspired 10.5 millimeter black and white pearl earrings set in sterling silver or black rhodium; coil bangles in combinations of sterling silver and red onyx layered with white quartz , smoky quartz or black mother of pearl layered with white quartz; stackable bangles in combinations of sterling silver and white pearls with black spinel or black rhodium with black pearls and black spinel; white sapphire and black spinel encrusted cuffs in sterling silver and black rhodium.
The men's jewelry collection, a new market for both Gabriel and Carmen Marc Valvo, is designed to be paired with Valvo's introductory men's ready-to-wear line. Standouts include: sterling and black rhodium prayer bead bracelets designed for layering; woven wrapped bangles handmade with sterling silver and set with lapis lazuli, black onyx and mother of pearl; pillow-shaped cufflinks encrusted with blue sapphires set in matte sterling silver or white sapphires set in black rhodium; and silver cross-shaped cufflinks adorned with garnets, white sapphires or black spinel.
"We are thrilled to partner with Carmen Marc Valvo as we celebrate 25 years in the fine jewelry business," state Vice President/Designer, Dominick Gabriel and Chief Creative Officer, Berna Gabriel. "We are continually inspired by Carmen's pristine designs and this collection is a labor of love between two brands whose combined mission is to make women look and feel beautiful."
"As a lifelong lover, collector and a wearer of fine jewelry, I've spent years looking for the right partner to collaborate with to design beautiful jewelry," echoes Designer, Carmen Marc Valvo. The stellar team at Gabriel & Co. helped me execute my vision and create an exquisite collection of artisan jewelry while fulfilling a long-standing dream."
About Carmen Marc Valvo:
Today, the Carmen Marc Valvo lifestyle brand is made up of several collections. Through special licensing partnerships, each top-tier company contributes a unique component that embodies the integrity and vision of Carmen Marc Valvo. Each one of Carmen's elegant designs combines classic artistry and refinement in striking silhouettes designed to enhance and complement the inherent beauty of the female form. His unique ability to highlight a woman's best features through the flawless execution of color and fabric has made him a favorite of celebrities seeking an unforgettable special event look. Over the past 25 years, Carmen's stunning cocktail dresses and breathtaking couture gowns have graced some of the world's most glamorous and talented women. For more information, visit http://www.CarmenMarcValvo.com.
About Gabriel & Co.:
Gabriel & Co. is proud to celebrate 25 years in making hand crafted fine jewelry with timeless designs and unparalleled quality. Founded in 1989 in Manhattan by brothers Jack and Dominick Gabriel, the aptly named Gabriel & Co. has grown into a world-renowned brand amongst consumers and within the fine jewelry industry. Most recently, the brand was voted the most preferred and the most profitable brand by both JCK Magazine's Retailer Survey and INSTORE magazine's annual Big Survey. For more information, visit http://www.GabrielNY.com.
###