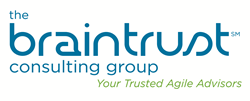 As the leading Agile development framework, Scrum has predominantly been used for software development, but it is also proving to be effective in efforts far beyond.
(PRWEB) September 05, 2014
The Braintrust Consulting Group will host three days of Scrum training and offer User Story Workshop, Kanban Essentials and Test Driven Development classes in Nashville, TN at the Hampton Inn & Suites-Vanderbilt location, October 8-10, 2014. User Story Workshop and Kanban Essentials training classes are entry-level classes targeted to those interested in learning the benefits of Scrum and Agile practices with no pre-requisites. The Test Driven Development class is open to software developers with programming knowledge who seek to fulfill Scrum Developer certification.
Kanban Essentials (October 8-8:30 a.m.-4:30 p.m.) is a one-day in-depth, interactive immersion into the world of Kanban that requires no prerequisites. Like Scrum, Kanban is a method for managing the creation of products by defining the best possible team workflow that promotes continuous collaboration and encourages active, ongoing learning and improving. This class is ideal for Project Managers, software development managers, senior IT leadership (Directors/VPs/CIOs/CTOs) and anyone interested in enhancing workflow. http://braintrustgroup.com/class/kanban-essentials-ke-nashville-tn-2-8-october-2014/.
User Story Workshop (October 9-8:30 a.m.-4:30 p.m.) class is a one-day in-depth focus on how to gather Agile requirements and document them as User Stories. This class is ideal for business analysts, product managers/owners, and anyone who wants to understand how to adapt this Agile best practice. The workshop is essential for those who are interested in learning how to capture stakeholder business needs, produce effective User Stories, create better product backlogs and learn the method of story mapping for better User Stories. http://braintrustgroup.com/class/user-story-workshop-usw-nashville-tn-9-october-2014/.
Test Driven Development (October 10-8:30 a.m.-4:30 p.m.) is a one-day in-depth immersion into a new way of thinking when designing and developing applications with the end goal of integrating new functionality into a working system. This class is ideal for software developers and software development managers interested in increased efficiency in regression and integration testing to reduce overall cost of development. http://braintrustgroup.com/class/test-driven-development-tdd-nashville-tn-10-october-2014/.
Prerequisites require participants have knowledge of the .Net framework and experience developing in C# or VB.Net with Microsoft Visual Studio and a fundamental understanding of practical Object Oriented Programming practices. http://braintrustgroup.com/class/test-driven-development-tdd-nashville-tn-10-october-2014/.
The Braintrust Consulting Group chose Nashville because of the robust software development industry that resides in Middle Tennessee. Braintrust President, Brian Rabon said, "Our decision to host classes in Nashville was based on the region's commitment to technology based companies that provide an array of opportunities in fields from music and entertainment to healthcare. We are proud to participate in their technology industry by bringing our world-class training to Nashville."
Erick Fleming, CSM, JCD, MCT, MSCD, will instruct these training classes. He is a certified .NET and Java Developer with over 17 years of programming and training experience. Fleming holds a Bachelor's Degree in Management Information Systems from the University of South Florida. He has spent most of his career training and consulting with organizations on technologies ranging from .NET and Java to Linux and other open source tools, and specializes in cloud-based web solutions.
Early bird attendee, individual attendee and group pricing are available for individual classes. To learn more about the Agile approach to training and additional upcoming classes in Nashville, please visit http://braintrustgroup.com/tour/nashville/. All Braintrust classes are available to be customized for private, on-site training seminars, please contact us for details about custom training for your organization.
###
About The Braintrust Consulting Group
With offices in Birmingham, Alabama, Los Angeles, California, and Salt Lake City, Utah. The Braintrust Consulting Group is a worldwide leader in Agile transformations. Through practical, hands-on training and enterprise and team coaching, we help our clients learn, plan, and implement Agile processes, such as Scrum and Kanban. Our goal is to teach our clients how to increase predictability of delivery, decrease time-to-market, and improve overall client satisfaction. http://www.braintrustgroup.com