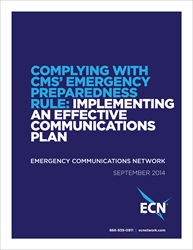 We have worked diligently to create a first class tool to help health care organizations meet the requirements from CMS. -David DiGiacomo, ECN President
Ormond Beach, FL (PRWEB) September 08, 2014
Emergency Communications Network (ECN) has released a white paper regarding the need for health care organizations to implement a communications plan in accordance to proposed emergency preparedness requirements from the Centers for Medicare & Medicaid Services (CMS). The white paper, titled "Complying with CMS' Emergency Preparedness Rule: Implementing an Effective Communications Plan," provides background of the CMS proposal and an effective solution based on past and current health care disasters.
"We have worked diligently to create a first class tool to help health care organizations meet the requirements from CMS. Our experienced team of communication specialists is here to help you be prepared for the next disaster," said David DiGiacomo, ECN President.
White paper excerpt:
Within communication planning, the CMS proposal would require hospitals to identify names and contact information for all pertinent employees, physicians, other hospitals and volunteers. Regular communication from a central source combined with a cascade of more localized information has become routine for announcing organizational change, managing crises, or keeping staff informed about what is happening across a large, complex organization.
The paper is available at http://www.ecnetwork.com/smartnotice/whitepaper.php.
The whitepaper is part of ECN's organizational development resources, in addition to disaster recovery, business continuity and emergency planning consulting services provided by the company's in-house emergency managers with more than 65 combined years of public safety experience.
About Emergency Communications Network
Headquartered in Ormond Beach, Florida, Emergency Communications Network, LLC (ECN) has pioneered high-speed notification services capable of reaching millions of people in minutes. ECN's sophisticated network supports a Web-based product suite featuring six major services: CodeRED® which enables local government officials to communicate time-sensitive, personalized messages in a multimodal approach; CodeRED Weather Warning™ which provides automated alerts to people in the path of severe weather just moments after a warning has been issued by the National Weather Service; Code-ED® for use by school systems to improve communications with their communities; CityWatch™, a premise based, full featured outbound and inbound communication notification system; SmartNotice™, a business continuity and staff notification solution and MyDailyCall™ for scheduling calls to check on at-risk individuals, including the elderly, infirm and latchkey kids.