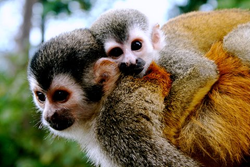 It's exciting for our guests to see a monkey visit their balcony, and it can be tempting to feed them when they're so close. Our goal is to kindly let visitors know why this is harmful.
Manuel Antonio, Costa Rica (PRWEB) September 05, 2014
Tulemar Vacation Homes in Manuel Antonio, Costa Rica is a 33-acre resort with over fifty vacation rental homes, an exclusive beach, four resort pools, hiking trails, and what several guests have reported to enjoy most, an abundance of wildlife. The resort recently partnered with the area's Titi Conservation Alliance, a non-profit wildlife conservation group founded in 2001, in an effort to extend environmental education to the resort's community.
The mono titi, or grey-crowned Central American squirrel monkey, visits Tulemar resort on a daily basis. "We place great importance in reminding our guests that they must not feed the monkeys, or any other wildlife," says Dave Houck, owner of Tulemar Vacation Homes Rentals & Sales. "Most people aren't aware of the extent of the effects that this has on these wild animals."
In collaboration with the Titi Conservation Alliance, Tulemar Vacation Homes has composed a "Top-Ten" list of reasons not to feed the monkeys or any other wildlife. The list is placed in each villa before a guest's arrival. Houck continues, "It's exciting for our guests to see a monkey visit their balcony, and it can be tempting to feed them when they're so close. Our goal is to kindly let visitors know why this is harmful."
The list has now been published and placed in each of the fifty plus homes in the Tulemar resort:
1. Monkeys are highly susceptible to diseases from human hands. They can die from bacteria transferred from your hand that has no ill effect on you.
2. Migration to human-populated areas to be fed increases the risk of dog attacks and road accidents.
3. Irregular feeding leads to an aggressive behavior towards humans and other species.
4. Contrary to the stereotype, bananas are not the preferred food of monkeys in the wild, especially those containing pesticides, which can be upsetting to the monkey's delicate digestive system and cause serious dental problems that can lead to eventual death.
5. Feeding creates a dangerous dependency on humans that diminishes the monkey's survival abilities.
6. Feeding interferes with the monkey's natural habitats and upsets the balance of their lifestyle centered on eating wild fruits, seeds, small animals, and insects.
7. Contact with humans facilitates poaching and the trade in illegal wildlife.
8. Pregnant females who are fed nothing but bananas during their pregnancy will not give birth to healthy infants.
9. Monkeys need to travel and average of over 10 miles each day to be in good physical condition. If they know that food is available in a particular location, they will not leave that area.
10. You can contract bacteria from the monkeys.
"We hope we can work together, extending the reach of our efforts even beyond the resort to additional businesses and organizations in order to protect our amazing wildlife," concludes Houck.
The Titi Conservation Alliance was established in 2001 and works to protect Costa Rica's Central Pacific region through Sustainable Development, Habitat Reforestation, and Environmental Education. Their efforts have shifted the titis' status from Critically Endangered to Endangered, and they have twice received the Ford Motor Company Conservation Grant for "Environmental Education and Reforestation." With this, the Alliance has planted over 30,000 native species of trees in neighboring regions, helping to connect isolated troops of mono titis and enhance their chance of survival through mixed breeding. The Alliance continues to work towards the titis' rise out of the danger of extinction.
For more information on wildlife conservation in Costa Rica's Central Pacific Coast, contact info@monotiti.org.