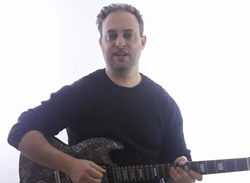 Today I want to do a lesson on guitar soloing skills
(PRWEB) September 05, 2014
"Today I want to do a lesson on guitar soloing skills", says Johnson, "when it comes to soloing one of the most important things is to be able to play melodies because that is what lead guitar is playing melodies that can accompany the song". Claude says that the easiest way to do this is to start with the pentatonic scale and teaches the demonstration licks in the key of A. Johnson performs easy examples in A minor pentatonic and incorporates techniques such as vibrato, hammer-on's, pull-off's, slides and bending. "Simply melodies start and end with the root note", says Johnson, "you should always try to make it melodic and always end a phrase with vibrato". Claude continues this easy beginner lead guitar lesson by demonstrating multiple examples and ideas to help you get your creative juices flowing to become a better lead guitarist. More great guitar lessons like this are available at GuitarControl.com.
The Pentatonic Scale is a musical scale with five notes per octave. They can be found all over the world and are the main scale used in the Blues genre.
Claude Johnson
Claude Johnson, a native of Philadelphia PA, began playing guitar in 1990 after being inspired by players like Jimi Hendrix, Eric Clapton, and Stevie Ray Vaughn. He is the creator of GuitarControl.com and has helped 1000's of people to learn to play the guitar with his critically acclaimed instructional DVD courses, all available at GuitarControl.com
About GuitarControl.com
GuitarControl.com is the leader in modern guitar instruction. It's packed with recourses including articles, video lessons, and the best videos in the business for the beginner to the advanced guitar student taught by the best instructors out there. Weather you are into the blues, rock, jazz, metal, folk, or anything in between, they have you covered.