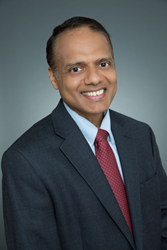 Satish is a proven leader who brings tremendous experience in the areas of portfolio management, alternative investment strategies, research and analytics, product engineering and risk management to our team.
Kansas City, MO (PRWEB) September 05, 2014
American Century Investments today announced that Peruvemba Satish has joined the company as a senior vice president responsible for the firm's newly created Global Portfolio Analytics and Engineering group. Satish reports to American Century Investments Co-Chief Investment Officer David MacEwen and will be based at the $145 billion* asset management firm's Mountain View, Calif. offices.
"Satish is a proven leader who brings tremendous experience in the areas of portfolio management, alternative investment strategies, research and analytics, product engineering and risk management to our investment team," said MacEwen. "Satish and his team will work collaboratively with our investment professionals on enhancing risk and return management for all American Century strategies. His asset management experience and impressive academic credentials make him uniquely qualified for this role."
According to MacEwen, Satish and his team will enhance the firm's comprehensive risk management program, including the augmentation of existing analytics designed to evaluate risk at the security, portfolio and enterprise level. Among his responsibilities will be the evaluation of macro and global risk factors to determine the potential impact on individual holdings and client portfolios. He also will work closely with investment management and the product development team on engineering new investment strategies consistent with clients' needs and American Century's quality standards.
"I'm honored to join American Century Investments, a top-tier asset management firm with a reputation for looking out for the best interests of its clients and investors," Satish said. "I join a strong team of skilled professionals committed to excellence in managing investor assets and delivering value to their clients."
Satish joins American Century Investments from Allstate Corporation, where most recently he served as a senior managing director and portfolio manager for the performance-based strategies group. Previously, he was chief risk officer for Jamison Capital Partners LP, New York. Earlier, he was the chief risk officer and a member of the investment committee at DKR Capital Partners LP, an asset management firm specializing in alternative investment strategies. He previously was director of risk management at Soros Fund Management LLC.
Over the course of his career, Satish held quantitative research, risk management and investment management positions at State Street Bank and Trust, Barclays Capital and other firms. He is an internationally known speaker and published researcher on risk and asset management. He received a Ph.D. in finance from the University of Texas at Austin, a master's in economics from the State University of New York, and undergraduate and graduate degrees in engineering and economics from Birla Institute of Science in Pilani, India. He is a CFA charterholder.
American Century Investments is a leading privately held investment management firm, committed to delivering superior investment performance and building long-term client relationships since its founding in 1958. Serving investment professionals, institutions, corporations and individual investors, American Century Investments offers a variety of actively managed investment disciplines through an array of products including mutual funds, institutional separate accounts, commingled trusts and sub-advisory accounts. The company's 1,300 employees serve clients from offices in New York; London; Hong Kong; Mountain View, Calif.; and Kansas City, Mo. Jonathan S. Thomas is president and chief executive officer and Victor Zhang and David MacEwen serve as co-chief investment officers. Through its ownership structure, more than 40 percent of American Century Investments' profits support research to help find cures for diseases including cancer, diabetes and dementia. For more information about American Century, visit http://www.americancentury.com.

Assets under management as of 8/31/14
You should consider the fund's investment objectives, risks, and charges and expenses carefully before you invest. The fund's prospectus or summary prospectus, which can be obtained at americancentury.com, contains this and other information about the fund, and should be read carefully before investing.
American Century Investment Services, Inc., Distributor
©2014 American Century Proprietary Holdings, Inc.