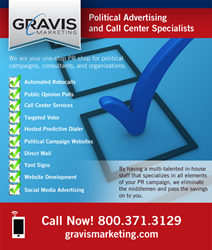 The Medical Marijuana constitutional amendment has to get 60% of the vote to pass, a lot of money will be spent on both sides, it will be much closer then most expect. Said Doug Kaplan President of Gravis Marketing
Winter Springs, Florida (PRWEB) September 04, 2014
Is the proposed Marijuana Amendment going to pass in November? Florida voters speak out about how they feel about the amendment proposal as well as their support for potential candidates in both the state and national elections.
A new Florida political poll conducted by telephone survey provides valuable insight for candidates about how voters are feeling. The unaffiliated poll was taken in August and presented questions to likely voters around who their candidate of choice is and how they feel about the proposed marijuana amendment that will be on the ballot in November.
These preliminary results show that 64% of voters would vote for the amendment for the medical use of Marijuana in certain circumstances, if the election were held today. Growing support is getting the attention of both voters and candidates, as marijuana is being seen in a new light. This recreational drug is being tested, and finding excellent results for treating pain and various illnesses.
The August Telephone Surveys also showed strong voter support for the democratic process. With so many elections having a poor voter showing, these poll results are impressive. A full 73% of voters in the poll plan to vote in the upcoming election, making this election pivotal for all candidates. Gravis Marketing conducted the poll using automated predictive dialer technology and internet survey panels.
Learn more about how voters are feeling about issues and potential candidates by viewing the entire poll at http://gravismarketing.com/polling-and-market-research/scott-crist-tied-hillary-clinton-ahead-marijuana-past-60/.
Established in 2010 by co-founder Doug Kaplan, Gravis Marketing is a non-partisan research firm headquartered in Winter Springs, Florida. Gravis Marketing was the recipient of the 2013 American Association of Political Consultants Award for 2012 Presidential Primary domestic and international phone calls.