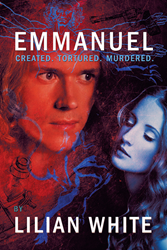 An epic science fiction novel that begins in World War II and continues through today.
(PRWEB) September 05, 2014
World War II scientists rush to create a new species: intelligent half-men, half-animal products of genetic manipulation. But instead of becoming the ultimate warrior, when the creatures are tortured and murdered in the name of science, the revenge they then seek is catastrophic for mankind.
During the war, twin sisters Ruth and Kareen Van-derwal are being held as sex slaves by the Japanese in the Dutch East Indies. Twins have long been a fascination of Nazi scientists for experimentation. What will happen to these girls?
This suspenseful, apocalyptic science fiction novel has it all: love, hate, murder, greed, power, sex, and science gone crazy. The action spans the globe and doesn't end until the present day. See what happens as countries around the world fight terrorism and savagery in the dramatic tale "Emmanuel".
"EMANNUEL" (Kindle ISBN: 978-1-62857-192-9, ePub ISBN: 978-1-62857-191-2) is available for $9.99 at http://epubco.com/shop/products/emmanuel-by-lilian-white/ or
Amazon Kindle: http://www.amazon.com/Emmanuel-ebook/dp/B00E5MRS5O/
Barnes & Noble Nook: http://www.barnesandnoble.com/w/emmanuel-lilian-white/1115954107
and in multi-formats for other e-Readers through numerous vendors online.
The soft cover version (ISBN: 978-1-62212-972-0, $18.95) can also be ordered through the publisher's website: http://sbpra.com/LilianWhite, Amazon, or the website of Barnes and Noble.
WHOLESALERS: This book is distributed by Ingram Books and other wholesale distributors. Contact your representative with the ISBN for purchase. Wholesale purchase for retailers, universities, libraries, and other organizations is also available through the publisher; please email bookorder(at)aeg-online-store(dot)com.
About the Author:
Lilian White is from Queensland, Australia. She was formerly a nurse and an English tutor. She is an Honored Member of Worldwide Branding, had two Honorable Mentions from News' Digest International and Continental Broadcasting Network of America made her a candidate for the World's "Who's Who" that recognizes her for her achievements and her writing skill. Filmmakers in the United States are currently considering her novel "In Love's Time".
Strategic Book Publishing and Rights Co, LLC