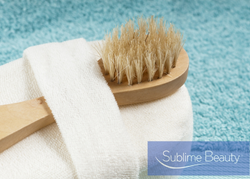 Healthy Brushing of the face is different than daily brushing of the body, explains Heshelow.
St. Petersburg, FL (PRWEB) September 05, 2014
The popular Face Brushes are back at Sublime Beauty®, following popular demand.
"We specialize in Skin Brushing, and added the delicate Face Brushes to our collection earlier this year," says Kathy Heshelow, founder of Sublime Beauty® . "Everyone loves them!"
The company offers a HOW-TO DOWNLOAD GUIDE on the special Skin Brushing website. The brochure includes several charts and lots of helpful information.
Brushing the face is different than daily brushing of the body, Heshelow explains, as the facial skin is far more delicate. Much lighter strokes and bristles are used; the guide shows how to start at the decollete and neck and work up in specific movements to the forehead.
Normal, dry and aging skin only requires 1 to 2 dry brushings per week, while oily skin can brush 4 to 7 times weekly.
The brushes are sold 2 together in a pouch (for either trading off for dry brushing, or to designate one for dry and for wet brushing.) They are available at Amazon or the Sublime Beauty® Webstore.
ABOUT: Sublime Beauty® is a quality skincare company that focuses on products to "Age Younger". Ingredients help to boost collagen, hydrate, relax wrinkles and improve skin. A niche includes healthy Skin Brushes. The company webstore offers free standard shipping and a VIP Club. Sign up for Secret Sales on the site.