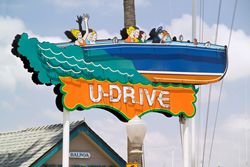 Newport Beach, California (PRWEB) September 05, 2014
To commemorate the refurbishment of the Balboa Village Historic "U-Drive" Welcome Sign, located on Balboa Peninsula at the Balboa Ferry entrance, a ribbon cutting ceremony will be held there on Wednesday, September 10, 2014 at 3:30pm.
The City of Newport Beach has been planning a revitalization of Balboa Village – Home of the Fun Zone, to increase the economic vitality of the area, improve the aesthetics of the neighborhood, and create a stronger identity and connectivity in the community.
The Balboa Village sign is the first visual visitors have come to recognize welcoming them to this Newport Beach neighborhood when they arrive on the ferry. Originally built in 1933 by Roland Vallely, the sign has remained a historic fixture in Balboa Village – Home of the Fun Zone, and was only updated once before in 1969. 45 years later the sign has had been restored to its original condition. When Vallely originally opened his business, Vallely Boat Rental, next to the ferry and built the sign, it served as his business' main advertisement. All these years later the sign remains a notable part of the area highlighting the unique ferry experience to and from Balboa Island. Current city councilman Mike Henn, Balboa Boat Rentals, Balboa Village Merchants amongst other community members made contributions totaling $5,000 to restore the sign today.
Balboa Village – Home of the Fun Zone encompasses quaint boutiques, art galleries, restaurants and specialty shops that have been drawing visitors and locals to the area for generations. Stroll along the Bayfront Boardwalk and see the yachts of Newport Harbor, meander a couple of blocks towards the ocean to take a walk on the Balboa Pier, or wander on the Ocean Boardwalk adjacent to miles of white sand beaches. Go on an adventure with the many rental outfits available including duffy boat rentals, Sea Doos, standup paddleboards, narrated harbor tours, sport fishing, whale watching, parasailing, Segway tours, Catalina trips, kayaks and bicycles.
To attend the ribbon cutting ceremony, please congregate at the sign's location at the Balboa Ferry entrance in Balboa Village, which is located at the corner of Palm Street and the Bayfront boardwalk.
###
About Newport Beach & Company
Founded in January 2013, Newport Beach & Co. is a non-profit organization established to serve as the official marketing agency for the city of Newport Beach. The agency seeks to bring together all of the marketing entities connected to the Newport Beach brand, and is designed to oversee separate business units that include Visit Newport Beach, Dine Newport Beach, Celebrate Newport Beach, Enterprise Newport Beach and Newport Beach TV. Additionally, Newport Beach & Co. includes the Newport Beach Foundation focused on creative charitable endeavors that support the business community.