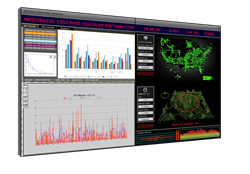 The ALDOT Visual Communications Network serves many needs including distance learning, training, emergency preparedness and workforce productivity. TI demonstrates real-world expertise in using technology to solve operational problems.
Atlanta, GA (PRWEB) September 08, 2014
Technical Innovation (TI) is a proven solution provider of network based visualization and collaboration technologies for corporations, institutions, state and federal government agencies and mission critical facilities. A design/build systems integrator, TI has extensive expertise in providing turn-key technology solutions for public and private transportation environments. The ITS 3C Summit is the annual meeting for the Gulf Region Intelligent Transportation Society (GRITS), the Intelligent Transportation Society of Florida (ITSFL), and the Intelligent Transportation Society of Georgia (ITSGA), taking place September 14-17 at the Arthur R. Outlaw Convention Center along Mobile, Alabama's waterfront. Committed to partnerships, education and advancements of transportation, the summit will highlight innovative and efficient ITS technologies and programs that improve the safety of travelers.
Ranked among Commercial Integrator Magazine's Top Corporate Market Integrators (Commercial Integrator, August 2014), Technical Innovation will introduce attendees to real-world examples of technologies being used to solve operational problems. As a Cisco Premier Partner and Master Specilaized Collaboration vendor, TI's Enterprise Video Communications (EVC) Group can present a case study of a DOT project that includes the design, deployment and ongoing support of a large Cisco based visual communications network. The case study demonstrates how the network provides valuable training and distance learning, as well as enhanced emergency preparedness and increased workforce productivity.
Also highlighted in Booth 808 will be TI's latest cloud services solution, TI VMRplus. TI VMRplus is a flexible and affordable cloud-based collaboration service that increases workforce productivity through enhanced collaborative communication. Unlike similar cloud solutions, TI VMRplus gives users maximized flexibility designed around connectivity, scalability, and interoperability. Users have the ability to connect from any device at any time, with plans that can easily expand or reduce to meet ever-changing needs. Additionally, subscribers can connect to the service via Microsoft Lync®, Cisco, Polycom, WebRTC, etc., based on preference or existing infrastructure. Powered by Videxio, a robust network that features 16 PoPs (points of presence) around the globe, TI VMRplus calls are able to establish the highest possible, enterprise-level call quality.
Partnering with Planar, a leading manufacturer of digital display technologies, Technical Innovation will demonstrate how the integration of visualization and collaboration technology solutions can directly impact how you monitor and respond to transportation issues, allowing a reliable channel for easily disseminated information. Built for the most demanding environments, Planar offers unmatched performance, durability, and value with flexible configurations and unprecedented reliability.
Summit attendees interested in expanding their DOT's collaboration capabilities are encouraged to visit the booth. The TI team will be performing ongoing live demonstrations, allowing visitors to experience the technology and learn about its potential to enhance communication.
About Technical Innovation
TI Enterprise Video Communications Group enables meaningful, productive, face-to-face collaboration through the use of video-centric unified communications technologies and custom cloud solutions, with a focus on network infrastructure. Paired with the Presentation Technology Solutions (PTS) team, who designs, implements, and maintains easy-to-use collaboration spaces that increase productivity and maximize meeting effectiveness, Technical Innovation brings the complete collaboration technology solution to the market.