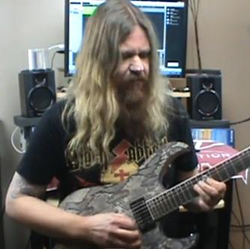 (PRWEB) September 06, 2014
The tapping lesson that Darrin teaches in this video is very melodic and incorporates the techniques of tapping, hammer-on, pull-offs, slides and vibrato. The entire lick is based on the second string and Darrin demonstrates it as follows; 2nd string open and then a hammer-on to the 4th fret with first finger and then 5th fret with 2nd finger and then tap the 12th fret and then repeat the entire sequence twice followed by sliding the tapping finger to the 10th fret and then the 9th fret. Darrin continues with an array of variations of the sequence that creates a melody to fit the chord changes. Goodman breaks the entire solo down so that it is very easy to follow along with. Guitar TAB's are available for this lead guitar lesson at GuitarControl.com.
Sonic Prophecy is a Heavy Metal band formed in Salt Lake City, Utah in 2008. The band has had commercial success despite have numerous lineup changes over the years. They have released two studio albums and have had songs licensed in TV, movies and video games and have been the headliner for several Power Metal festivals in the US. There third studio album Apocalyptic Promenade is set for release in late 2014.
Darrin Goodman
Darrin Goodman, a native of Ogden Utah, began playing guitar at the age of 12 after hearing KISS at an earlier age. Darrin has been a local finalist for the King of the Blues contest and is the lead guitarist of international recording artist Sonic Prophecy who has performed with artists such as Accept, Sabaton Cinderella and Ratt. Darrin has been teaching private lessons to 30 to 60 students a week from his home studio since 1987.
About GuitarControl.com
GuitarControl.com is the leader in modern guitar instruction. It's packed with recourses including articles, video lessons, and the best videos in the business for the beginner to the advanced guitar student taught by the best instructors out there. Weather you are into the blues, rock, jazz, metal, folk, or anything in between, they have you covered.