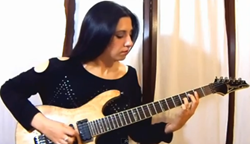 (PRWEB) September 06, 2014
In this lead guitar lesson, now available on YouTube.com, Alejandra Mesliuk teaches how to play the guitar solo from shredder guitarist Marty Friedman band Megadeth's "A Tout Le Monde". This melodic lick is composed of Arpeggios and incorporates the use of the techniques of String Skipping, Hammer-ons, and Sweep Picking. Alejandra plays the lick first at full speed over a backing track and then plays it slowly so you can see just how he is playing it. Guitar TAB's for this lead guitar lesson are available at GuitarControl.com.
Megadeth was formed in Los Angles California in 1983 by singer/guitarist Dave Mustaine (ex Metallica guitarist). Megadeth has had a revolving door of lead guitarists since its inception, one of which being Marty Friedman who played on the bands most successful album to date, 1992's Count Down to Extinction that sold multi platinum. Megadeth has sold over 50 million records world wide and has had 11 Grammy nominations. Friedman is ranked as one of the greatest Shred guitarists of all time and is well known for his work in Cacophony with guitarist Jason Becker.
Alejandra Mesliuk
Alejandra Mesliuk is from Buenos Aires, Argentina. She studied jazz guitar harmony and under the method in Temperley Berklee School of Music by Ariel Ferreyrola. She has been an area teacher and clinician for the last 10 years in electric guitar, classical, and musical language. She is currently working on a solo album.
About GuitarControl.com
GuitarControl.com is the leader in modern guitar instruction. It's packed with recourses including articles, video lessons, and the best videos in the business for the beginner to the advanced guitar student taught by the best instructors out there. Weather you are into the blues, rock, jazz, metal, folk, or anything in between, they have you covered.