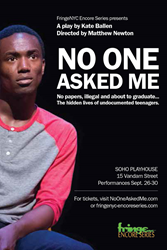 "With over 65,000 teenagers graduating from American high schools every year without papers, we need to make sure people hear their stories" said No One Asked Me director Matthew Newton.
New York, NY (PRWEB) September 08, 2014
Following a sold out run at FringeNYC, NO ONE ASKED ME -- a play inspired by the true stories of undocumented immigrant high school students -- has been selected as part of the FringeNYC Encore Series. Written by Kate Ballen and directed by critically acclaimed Australian actor-writer-director Matthew Newton, the show will run from September 26-30th at the Soho Playhouse in New York City. The play was awarded the FringeNYC Excellence Award for an ensemble production.
NO ONE ASKED ME offers an insider's look at the intimate human struggle faced by the over 65,000 high school students without legal immigration papers who graduate in the United States each year. Hopeful for their future, yet without a social security number, these students are unable to get college financial aid or legal employment, and live in constant fear of being "found out" and deported from the only home they have ever known.
The cast of nine includes Octavia Chavez-Richmond, Ashlee Danielle, Gary De Mattei*, Alaina Fragoso, Corneilus Franklin, Jessica Maria Kight, Veda Kumarjiguda, Terra Mackintosh*, and Jihan McKenzie. (*Appearing courtesy of Actors' Equity Association. AEA Approved Showcase.)
Matthew Newton is a critically acclaimed director, writer and actor and has worked extensively in his native Australia in the theater, on television and in film. His many leading roles include starring in the television series Underbelly: A Tale of Two Cities, one of the most successful Austrailian dramas of all time. Matthew's debut feature film as writer/director "Three Blind Mice" won the prestigious FIPRESCI critics prize at the London Film Festival and played all around the world to rave reviews.
NO ONE ASKED ME marks the debut of playwright Kate Ballen. She was a journalist at Fortune Magazine, book author, and for the past ten years has worked as a college counselor at an inner city Bronx high school. This play is based on her experience working closely with undocumented students, helping to navigate the college and immigration process.
NO ONE ASKED ME plays September 26-30 at The Soho Playhouse, 15 Van Dam Street New York City on the following schedule: Friday, Sept. 26 at 9:00 pm; Saturday, Sept. 27 at 4:00 pm; Sunday, Sept. 28 at 7:30 pm; Monday, Sept. 29 at 7:00 pm; and Tuesday, Sept. 30 at 8:00 pm.
Tickets are $18 and can be purchased by visiting http://www.fringenyc-encoreseries.com or http://www.NoOneAskedMe.com.