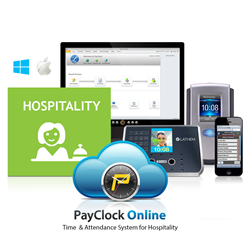 With PayClock Online, everything is backed up in the cloud. It's given me peace of mind." -- Four Points by Sheraton General Manager Sam Patel
Atlanta, GA (PRWEB) September 05, 2014
Four Points by Sheraton Jacksonville Baymeadows has selected Lathem's PayClock® Online to manage employee time and attendance for its busy hotel on the east coast of Florida.
The remote access of the cloud-based solution is the No. 1 reason General Manager and Owner Sam Patel upgraded to PayClock Online, enabling him to continue operating the hotel efficiently. He can monitor hours and overtime, make any necessary time record adjustments, and process payroll from anywhere, whether he's out of town on business or vacation.
Lathem's cloud-based system also reassures Patel that all time records are backed up and secure.
"PayClock Online is a safety net," said Patel. "Before PayClock Online, when the server would go down, we didn't have any time records and I would sometimes lose the reports. With PayClock Online, everything is backed up in the cloud. It's given me peace of mind."
The hotel's front desk, guest service representatives, housekeepers, maintenance, laundry attendants, restaurant team and bartenders clock in and out using PayClock Online. Each member of the hotel team is always busy not only executing on their own job responsibilities, but pitching in to help each other deliver a seamless operation with excellent customer service.
Patel shares time and attendance management duties with his assistant GM, and PayClock Online makes this easy. When the assistant GM makes changes to employees' time records in the system, Patel immediately sees those changes in real-time, whether he's in the next office or another city.
That means he has complete access to all time records anytime, anywhere. There's no waiting for updated records to process in the system, and Patel doesn't have to wait until he's back in the office to access the most recent or corrected time entries. With PayClock Online, he manages time and attendance when it's convenient for him.
About PayClock Online
PayClock Online is a cloud-based solution that enables businesses to manage time and attendance anytime, anywhere with an Internet connection. This web-based employee timekeeping system allows managers to quickly process payroll on their own time, when it is most convenient for them. Mobile functionality lets managers track remote employees' hours or administer payroll from their own mobile devices. It's easy to set up employees to clock in and out from their computers, mobile devices, or even Lathem time clocks, and enable them to view their own time records and paid time off information on the web without supervisor assistance. PayClock Online easily integrates with popular payroll software systems like QuickBooks, Paychex, ADP and more.
About Lathem
Headquartered in Atlanta, Georgia, Lathem is the leading provider of durable and affordable timekeeping products for business. Founded in 1919, Lathem remains a family-owned and operated US manufacturer. More than 1 million organizations worldwide use a Lathem solution every day to help manage their business, including Lathem's PayClock Online cloud-based time and attendance systems, wall clocks, and biometric and mechanical time clocks.
In celebration of their 95th anniversary, Lathem has launched a year-long sales event that makes it easier for small businesses to upgrade to the latest technology in employee time and attendance management to improve productivity and streamline the payroll process.