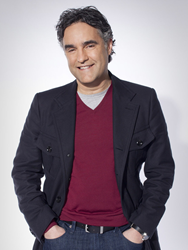 Mississauga, Ontario (PRWEB) September 06, 2014
Bruce Croxon is best known as a web business pioneer, co-founder of Lavalife and former star of CBC's hit television show Dragon's Den. In 2004 Croxon and his partners sold their stake in Lavalife for a staggering 180 million dollars. Eager to try new things, Bruce has spent the last ten years starting new ventures, and funding other entrepreneurs in a wide range of different industries. His investments have included Vita, a chain of high end holistic spas in Canada's western provinces as well as Balzac's Coffee, a rapidly expanding gourmet coffee business in Toronto, Ontario to name just a few.
After watching him on TV for years, Canadian audiences are now getting a chance to meet and learn from Bruce in person via a series of public and corporate speaking engagements. This coming Saturday, September 6th, 2014 at 1:30 pm, Bruce will be speaking at the National Franchise Show in Toronto. The organizers (National Event Management) are expecting a standing room only crowd for Bruce's talk.
Also attending the National Franchise Show this weekend will be one of Croxon's newest associated ventures, Java Brew Collection (JBC). Bruce loves the gourmet coffee business and is not shy to talk about it. After being quoted in several national publications saying that "Investing into the gourmet coffee business was the one of the best investment he ever made", he was asked and accepted a position as a special advisor to the Java Brew Collection (JBC), one of Canada's most rapidly growing networks of "in office" gourmet coffee distributors.
Java Brew Collection's (JBC) Senior Marketing Director, Rod Spendiff was quoted as saying, "Bruce Croxon's high profile and experience in the business world, as well as his ownership of a highly successful gourmet coffee business, will make him an excellent advisor to our company in building our brand and expanding our network of area operators across Canada and the United States."
The Java Brew Collection You Tube channel (https://www.youtube.com/javabrewcrew) features excerpts from Bruce's appearances at two recent JBC live events. Many more videos will follow – there's also some discussion about Bruce doing interviews with experienced JBC operators to discuss the realities of the Gourmet Coffee Industry and share clever tactics new operators can use to help realize the tremendous potential of Java Brew Collection's business offering.
The National Franchise & Business Opportunities Show will be taking place at The International Centre located at 6900 Airport Rd, Mississauga, ON L4V 1E8 from September 6th to 7th, 2014
Java Brew Collection - With almost 30 years experience designing and distributing automated coffee systems for the North American market, JBC is considered to be the Premier supplier of High quality, Italian made, Gourmet Coffee Equipment to OCS (Office Coffee Service) operators. It's (13,000 sq. ft) full service facility in Toronto, Canada houses customer service, shipping and receiving as well as technical and marketing support for it's ever expanding network of local area operators. JBC sells and distributes only the highest quality, commercial grade equipment to its local area operators and offers in depth training and ongoing support for all equipment sold. Learn more http://www.javabrewconcept.com.