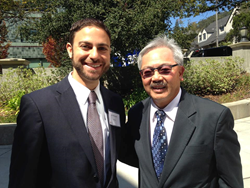 San Francisco, California (PRWEB) September 05, 2014
At the 3rd International Conference on Early Earthquake Warning held this week at UC Berkeley, SF Mayor Ed Lee discussed Regroup's world-changing technology: the first Early Earthquake Warning Mass Notification System in the United States. This system was developed by Regroup on behalf of the SF Mayor's Entrepreneurship in Residence Program in conjunction with UC Berkeley and the Department of Emergency Management.
Mayor Lee's speech came at the commencement of the conference and just ten days after the Napa earthquake, the strongest to hit northern California since Loma Prieta hit the Bay Area 25 years ago.
San Francisco Mayor Ed Lee spoke along with California Lieutenant Governor Gavin Newsom, California State Senator Jerry Hill, California State Senator Alex Padilla, CalOES Director Mark Ghilarducci, USGS Acting Director Suzette Kimball and Richard Allen, Director of the UC Berkeley Seismological Laboratory.
Mayor Ed Lee said, "The most important thing is don't wait and implement. . . .We would like [production] completed within the next year or two at the most. We think as time goes on, within 20 years there will be a major earthquake so we don't have much time. . . .We have companies like Regroup who are starting to do this."
"These are items sometimes you can't wait necessarily for the state to act, you've got to act quickly, first, because you know you're going to save lives . . . less injuries, less casualties. . . Companies like Regroup that are working with us to make sure all of the different emergency departments are on some notification basis."
Regroup's system also would mark the first time that San Francisco's emergency messages are in the four languages required by city ordinance: English, Spanish, Chinese, and Tagolog. Few, if any, cities in the United States provide emergency messaging in multiple languages. Regoup's messaging would give from seconds to minutes of advanced notice to city first responders and residents to let them know the strength of the earthquake and expected time before impact is felt in their area.
For a Live Demo of Regroup's Mass Notification System, sign up here:
http://1.regroup.com/free-live-demo-e-pr/
About Regroup:
Regroup, the leading provider of Emergency Notification and Mass Communication solutions, offers one-click messaging to mobile phones (text/voice), landlines, email, social media, websites, and more. Regroup stands apart from other mass messaging systems with its ease of use, seamless integration with social media and client databases, unparalleled reliability and unlimited text/voice/email messaging.
Regroup currently serves government clients such as the City & County of San Francisco, educational institutions, non-profits and businesses. To learn more about Regroup's Mass Communication & Emergency Notification System, please call 917-746-6776 or email inquiries(at)regroup(dot)com.