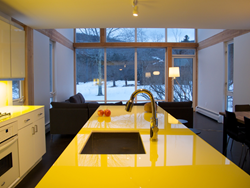 Kool Glass is 100% glass, and 1000% colorful
Montréal (PRWEB) September 10, 2014
In Europe, colorful glass countertops have enjoyed immense popularity among consumers and designers alike, but this hasn't been the case in North America due to a lack of quality options. LEEZA Surfaces aims to change all that with Kool Glass, its new, exclusive glass surfacing line—a line that boasts pure glass and plenty of color.
"We use only low-iron, tempered glass," says LEEZA Partner, Mark Hanna. "Tempering makes the glass safe and strong. Low iron gives glass its crystal-clear characteristic, which helps colors truly pop. Since Kool Glass is inspired by the world of color, it's critical we do right by all the colors of the rainbow and then some."
Customers can choose from 16 standard designer colors in two finishes (glossy or satin), or they can custom match any color they have in mind. "The possibilities are endless," Hanna says. "If someone wants a purple-red that rivals a sunset, we can match it."
How does Kool Glass compare to other popular surfacing products? Glass is a naturally non-porous material, so it doesn't require sealing (like granite). It's hygienic, easy to clean, and impervious to water, making it ideal for many horizontal and vertical applications, such as full-height backsplashes. The satin finish provides texture, something that delights designers since it gives the surface an air of mystery.
Compared to other glass countertops, Kool Glass wins easily. Hanna says the problem is that other so-called "glass" countertops are rarely pure glass and they don't offer such vibrant hues. This is especially true of recycled glass countertops, which are usually an amalgam of glass and a binder, like cement.
"Kool Glass is 100% glass, and 1000% colorful," Hanna says. "It really is a cool product. And people love it. Requests have been through the roof, more so than any other product we've ever touched."
To learn more and to order Kool Glass samples, visit http://www.leezasurfaces.com.
About LEEZA Surfaces
Headquartered in Montreal, LEEZA is recognized as one of North America's leading suppliers of premium surfaces and sinks, including HanStone Quartz by Hanwha, Staron Solid Surfaces by Samsung, Accolade Stainless Steel Sinks, LEEZA Lab Tops by Durcon, and Pyrolave. LEEZA introduced its exclusive glass surfacing line, Kool Glass, in the summer of 2014. Visit http://www.leezasurfaces.com.